National Slalom Championships 2021 Round 7 -
Poole, Sandbanks
Sat 23rd

-

Sun 24th

October
About Slalom
UKWA Slalom represents windsurfing in its purest form. No matter what your ability, the kit you use or the discipline you specialise in, everyone can relate to the exhilaration of blasting back and forth, trying to squeeze that extra bit of juice out of your kit whilst racing your mates.
At an event you choose a fleet to join depending on your ability, and blast around a simple course, trying to get to the finish the quickest!
At the events, there are several fleets:
Master Blaster Fleet: Any kit, launch from the beach, get around one bouy any way you can, and get back! First back to the flag wins.
Amatuer Fleet: The stepping-stone to the Pros, you need to be able to gybe around a 5 bouy downwind course.
Pro Fleet: People who have plenty of competitive experience, and racing slalom within the International Rules.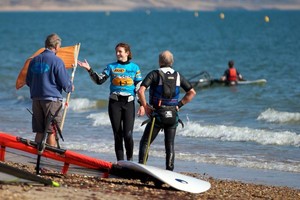 If you are not a member of the UKWA you can still enter in the Master Blaster fleet, although we do have to charge an extra £10 to cover event insurance.
For the Amateur or Pro fleet you need to be a UKWA member to enter an event, then online entry is easy (see membership for more).
Event Status - To Be Confirmed
Venue
Beautiful Poole Bay needs little introduction with its miles of golden sandy beaches and Poole Harbour is the biggest natural harbour in Europe. Competition will take place at Sandbanks (sea front or harbour).
Parking/Camping
In previous years large campervans withtrailers have taken up as many as four car parking spaces each by spreadingthemselves out inconsiderately.
Parking and rigging on the tarmac car park - please fill the car park from the left as you enter. The council will be enforcing these parking rules:
No Caravans in the car park.
No trailers in the car park.
No rigging or setting up kites in the car park.
No large camper vans (5 space only available) – all vehicles must fit in the marked bays.
Large vans / caravans and trailers can park on the road.
No Visual sleeping – The laws say no sleeping in the car park if you behave they will leave you alone.
Break the rules and you will get a ticket.
We are working with Car Parks on this to secure the future of this event, last year cost the organisers and car parks a lot of time looking for van owners. Please when you arrive park as well as you can, stick a £1 or so in the meter and then go and register where you will be given you car park pass, this must have your Registration number and name on it to make it valid.
The council have agreed we will be able to park for free and overnight.
It is possible that the council may cone off an area in the carpark for the exclusive use of campervans, this area would be limited and parking will have to be strictly controlled.
Facilities
Toilets on promenade and in car park.
Refreshments
Beach Cafe and other local cafes.
Directions
Once in Bournemouth or Poole, follow signs to Sandbanks. When you see the harbour on your right, follow it round, towards the signs to the car ferry, and the car park is on the left just before a roundabout - French Connection is diagonally opposite entrance.
Accommodation
FJB Hotels, The Sandbanks 01202 707377 Release Travel, 1-3 Seamoor Road, Westbourne, Bournemouth. 01202 757778 Poole Tourism: 01202 256256
Terms of attendance
The UKWA reserves the right to exclude or expel any member / non member / family / group or individual from its event site should it be considered that they may by their actions or the perception of such bring the UKWA, its hosts other parties or individuals into disrepute. The UKWA Committee, in part or in it's entirety, shall be the sole judge of such action, and their decision is deemed final.
Persons expelled shall leave the event site within 30 minutes of any verbal notice and shall not return. Exclusion may be deemed temporary (this event) or permanent (all events). Permanent expulsion shall be the decision of the elected committee and shall be confirmed in writing within 21 days of any temporary expulsion, however any excluded individual may not attend any UKWA events during this period of consideration.