Dave Hackford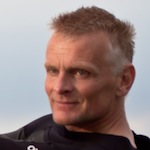 David was Britain's first Olympic windsurfer, back in 1984 competing on the Winglider the 1st Olympic board. He then went on to PWA Production Board World Champion (racing) and multiple British champion.
He joined Tushingham in 1992 and has gone on to be one of the directors of this very successful British company and was instrumental in bringing Starboard into the UK. David is still a keen racer and is currently a leading raceboard competitor.
David will always have his place in British windsurfing and arguably our best long board racer.