Dave White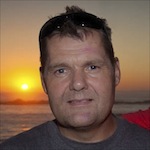 Dave White started windsurfing at the age of 16 taught by his father Reg White, Olympic gold medallist who brought the first Windsurfer to our shores in the early 70's. Reg also opened the first windsurfing school alongside Andy Biggs in 1976. This beginning gave Dave a fantastic start in what was to become a windsurfing carer.
With brother Robert having already gained a world title in sailing, Dave's windsurfing naturally gravitated to competition, though it wasn't until he and Duncan Coombs started to used slalom boards for course racing that he started to make his mark.
Wave was part of the UK tour and as Dave himself will admit, he wasn't a natural wave sailor but still managed to post a few reasonable results before he found his true vocation as a speed sailor.
At 104kg he was perfectly built for the discipline and broke the production record at his first event in 1990. The 90's can only be described as Dave's golden era as he brought home a string of speed records and world titles.
Whitey as he's become know throughout the world held the world production speed title many times and set his last production record of 44.03knots back in 2004 but he's involvement in throughout the sport has ensure his rotund figure is never far from a competitive beach.
Windsurfing work has seen he as a successful agent F2 under his Whiteboarders Company and remarkably this heavily dyslexic sailor took the helm of Boards magazine as Editor for two years.
Windsurfing is still Dave's driving force today and while he represents Seasprite and RRD he has also become one of our sports premier photographers, not that's quelled his first for competition
Whitey's irrepressible character put him back on the podium for the Masters Wave title and we're still not convicted he's hung up his ambitions. How else can we sum him up other than, a true inspiration to all windsurfers.