Guy Cribb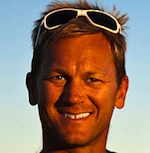 Cribby as he is known left art college and became a professional windsurfer at 19 years old and has never looked back since. He has had a fantastic career in windsurfing spanning over 20 years and has won 13 x British Championships including Youth, Men's and Masters categories.
Coaching since 1990 Guy has built a reputation as one of the best windsurfing Guru's in the World. Drawing on his experience and racing skills to developing his own brand of INtuition clinics. To prove he still had what it takes, Guy made a return to racing in 2010 after a 15 year absence. Competing in three major British Championship events. Winning the British Slalom Championships, British Raceboard / Longboard Champs and the infamous long distance race 'Round Hayling Marathon' all outright.
In 2008 Guy and the World Champion, Antoine Albeau windsurfed 70 miles from Cherbourg in France to Poole in a 30 knot storm and five metre high waves, raising nearly £11,000 for the Ellen MacArthur Trust charity, and he is also renowned for windsurfing 110 miles from Bournemouth to Brighton in a 55 knot storm!
Guy brought windsurfing to the Extreme Sailing Series and challenged the Extreme 40s to a showdown in front of a 3000 strong crowd, and showed the sailing world just how radical a windsurfer is!
Guy is always heavily involved in windsurfing and wave sailing with his INtuition coaching taking him all over the world every month to help others improve their skills.
He lives in the UK with wife and his three young kids.
Find out more at guycribb.com
Gallery