Penny Wilson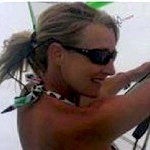 Penny Wilson (formerly Penny Way) was a truly talented windsurfer, she learned to windsurf growing up in Cornwall and went on to become a windsurfing racing legend! She became the Women's' World Racing Champion in 1986. Then won it again in 1990 and 1991. She finished 6th at the 1992 Olympic Games in Barcelona and again in the 1996 games in Atlanta.
Penny gained recognition that today's windsurfers can only dream of with appearances on BBC question of sport and even has a road named after her in Christchurch. She stopped being a full time windsurfer in 1996, aged 34, to start a family and a new life. She now has two kids and lives in Christchurch but windsurfing is still in her life and her children both have her genes with Dan doing well in Techno and daughter Emma winning World & European titles by the age of 12.
A true, windsurfing racing legend.