Peter Hart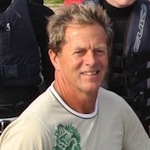 Best known now as a top level windsurfing coach and guru. Sport has always been a major part of Peter's life and at 17 Peter was English School's Gymnastics Champion and later played first division rugby in France. But windsurfing was always his 1st love winning his first major race in 1980 and turning pro in 1983 going on to great success in Slalom and Speed.
In 1988, Peter won the UK slalom championships and went on to compete in the PWA circuit breaking into the top ten within two years, the first Brit to do so. Always a fast windsurfer it was not long before he was drawn to Speed windsurfing. In 1984 he won the International Weymouth Speed Trials (B Class) on a team Carlsberg tandem with Dee Caldwell. Then from 1990-97 together with his best friend and rival Dave White went on to international success on the speed scene. In 1996 he broke into the official 40 knot club with a run of 40.5 knots at Sotavento, one of the first British men, to do so.
Since then Peter has used his skills as a sailor and top level sportsman to help educate others as a coach, journalist, presenter and award winning programme maker producing over 15 instructional programmes and sell out coaching camps all over the world.
Peter is a truly inspirational sailor and a great representative of our sport.