UKWA Freestyle Tour
Aims and General information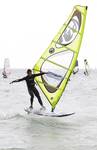 The aim of the tour is to find National Champions in the discipline of Freestyle Windsurfing for the categories of Pro Men, Amateur Men, Masters, Ladies, Youths, Junior's and Minims.All entrants must be members of the UKWA.
The aim is to run six events, in this year's UKWA Freestyle Tour, the scores from which shall all count towards the National Championship Result even if uncompleted. If four or more events are run a sailor's worst event score shall be discarded, if six events are run then their two worst event scores shall be discarded.;
A fleet at any Tour event shall be formed by a minimum of four entrants, if there are less than four entrants in any category some or all fleets may be merged and individual fleet results extracted from the overall event results.
Seeding for the first round at each Tour Event shall be arrived at on the basis of the results of the 2011 National Championship and the Event Committees judgment and experience.
Judging shall be by Overall Impression or Best Move.
Heat Systems shall be Repechage or Single/Double Elimination.
Signals to sailors shall be by flag and/or sound.
The Notice of Event and Sailing Instructions contain all the details and, in the case of any disputes, the Sailing Insturctions applicable to the Event prevail.
Event information and schedules shall be displayed on the Official Notice Board.
The full Sailing Instructions will be available at each event, see also the Notice of Events.