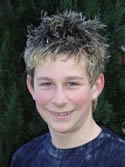 Alex Griffiths
I started windsurfing on the same course as Richard Hamilton in 2000, but I just did it now and then (in good conditions). Most of my time was spent sailing and racing in dinghies on the local lake. Then in the summer of 2002 I met Richard again who suggested I should try racing at the UKWA events.
Name:
Alex Griffiths
Year of Birth:
1988
Height:
5' 6"
Weight:
54kg
Hometown:
Barton upon Humber
Sailing since:
2000
Disciplines:
Race (MJOD)
Best Results:
2nd UKWA Bridlington 2003,
3rd UKWA Rutland 2003,
4th Youth and Masters 2003.
Sail Number:
526
Sponsors
C Spencer Ltd – Civil Engineers,
and Parents.
My first event was at Hove in spring 2003 where I came 13th. I was determined to improve and throughout the season I slowly gained in experience and confidence and managed to get a 2nd place in the Northern Event at Bridlington. Overall for my first season in 2003 I came 9th in the UKWA Junior Rankings.
I am hoping to build on my experience in 2004 and achieve more results amongst the leaders, and gain recognition as a potential National Team Windsurfer.