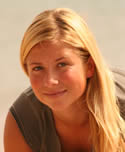 Amy Carter
Since an early age I have been in and around the water, and despite living in a big city, I soon became hooked on windsurfing. From the age of 11 I have been competing in National events all around the UK, and when I was 14 I took part in my first Youth World Championships, in the Aloha class. After this event I moved over into another class of racing, Formula, this was a big change but this new style of racing was definitely for me.
Name:
Amy Carter
Year of Birth:
1987
Height:
168 cm
Weight:
58 kg
Hometown:
Harrow
Sailing since:
1995
Disciplines:
Formula
Best Results:
1st Girl FW Youth Worlds Garda 2003,
1st Girl FW Youth Worlds Largs 2002 ,
1st Girl Aloha (5th Overall) UKWA 2001
Sail Number:
GBR85
Sponsors
Tabou-Boards, Gaastra,
Kangaroopoo, DaKine,
Sola Wetsuits.
For the past few years I have been trying to compete in as many national and international events as possible whilst still continuing with my school commitments. Some of my best results are being ranked 1st Formula Youth Girl in the World in 2002 and 2003, a title which I could not defend in 2004 due to injury, but that I will be hoping to regain this year. I am also currently ranked 8th in the PWA Racing World Tour.
Ambitions: This year I aim to retain my position as 1st Youth Girl at the Formula Worlds, and finish the year with a top 5 or 6 international ranking. In the long term I want to be able to windsurf as much as possible, and strive to reach my full potential!
Whats Hot: Windsurfing................. especially in Barbados!
WhatsNot: Windsurfing here in winter!
Thank you to everyone who supports and helps me, including all my sponsors and of course my parents, without you guys I would be nowhere!