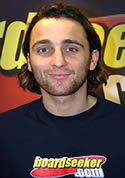 Ben Proffitt
Ben began windsurfing at the tender age of 9 and started racing at the age of 13. By 15 he had escalated to 3rd in the World. Moving up to the under-19's class, Ben went on to pick up numerous National Titles as well as the coveted 'BT Yachtsman of the Year' Award in 1995.
This fuelled his ambition to represent his country at the Olympic Games. From 1996 Ben was part of the Olympic team and was selected for the pre-Olympics in 1998, but a serious back injury was to abruptly stop his training. After 6 months out, and a lot of physio, Ben came back to put a serious challenge together, but it wasn't enough to take him to the Olympics.
Name:
Ben Proffitt
Height:
174cm (5'8")
Weight:
75kg
Year of Birth:
1978
Hometown:
Shrewsbury
Sailing since:
1988
Disciplines:
Freestyle / Wave
Best Results:
2nd Triple Crown 2003,
1st South African Freestyle Championships,
1st Bigbury Wave Classic.
Sail Number:
K800
Sponsors
Fanantic, Simmer, Dakine, Funsport
and Boardseeker.com.
After the disappointment of missing out, Ben decided to take a break from 8 years of racing and move on to Wave/Freestyle sailing at Rhosneigr, North Wales. This proved a good move and it wasn't long before he entered, and won, his first amateur competition. The Pro's, however, proved to be a more difficult egg to crack.
During the first 2 years he lacked consistent results but, after spending 3 months training in South Africa, 2003 proved to be his break-through year. He started off in fine form by taking the South African Freestyle Title.
The rest of the year went well, with him not dropping outside the top 3 in a British event. Finally, to put icing on the cake, Ben ended the season with 1st place at the Bigbury winter waves event. Sponsors: JP, Neilpryde, Boardseeker.com, Funsport