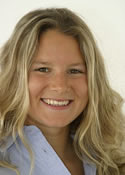 Bryony Shaw
Here's a bit of a profile to tell you what I'm about and why I prize the title of Mistral Ladies Champion 2002. Also a brief history about how the UKWA has supported me from beginner racer through to full time Olympic Campaigner; and my windsurfing aims for the future.
Once my family and I had decided that windsurfing was to be our hobby in 1998, we contacted the RYA and the UKBSA (as it used to be called) and became members in order to take part in the National competitions held across the country. My first tasters of racing were on the regional circuit with the LBSA, but as the season kicked off we were soon welcomed into the family friendly social scene at the National regattas. This friendly atmosphere, for which the windsurfing scene is renowned for, was the main reason that we traveled to as many competitions as we could. It was also so I could gain as much racing experience as possible in order to perform well at the regattas that could qualify me for a place in the National Aloha Squad.
Name:
Bryony Shaw
Year of Birth:
1983
Height:
165cm
Weight:
60kg
Hometown:
Weymouth
Years Racing:
5
Disciplines:
Mistral One Design
Best Results:
6th Palma Eurolymp 2003
11th Mistral Worlds 2002
Mistral Ladies Champion 2002
Aloha National Champion 1999
Sail Number:
GBR 94
Sponsors:
UK Sport Lottery Fund,
Neilpryde, Fat Face,
Boardwise, Marlow ropes
Successive years of competition made me more and more determined to gain a National Title, and sure enough in 1999 at 16 years old I became the Aloha under-17 National Champion (beating all the boys). In 2001 I took the title of 1st Mistral Youth Girl, second lady to Helen Cartwright; and finally in 2002 I became Mistral Ladies Champion.
Alongside my national achievements, the UKWA often announce my International results, again showing support for me and my home-grown windsurfing successes . These included finishing 9th at my first Youth Worlds in 1999; being selected to represent Great Britain at the ISAF Youth Worlds in 2001 and winning the North Sea Cup Series that same year. At my first Adult World Championships in 2001 I finished 17th, missing out on C level Lottery Funding by two places. And my latest achievement was at the 2002 Worlds in December where I achieved C level funding, narrowly missing B status by one place by finishing 11th. I am now included on the World Class Performance Programme, which aims to produce Olympic Champions.
I would like to thank my main sponsor UK Sport Lottery Funding for their current support and Sport England for their support over the last two years. I would also like to mention Neil Pryde, who has been my wetsuit sponsor since 1999, and my recent sponsors Fat Face Clothing and Marlow Ropes. Without this support I would not have come from being just a budding young female windsurfer to a full time Windsurfing Olympic Campaigner with the ultimate aim of achieving an Olympic Gold Medal.
I am now putting something back into the sport that I love by coaching the South East Zone Squad of under-15 year olds. I hope they progress in this exciting sport to become our future Champions. I am certain that they will embrace the warm atmosphere that I experienced at UKWA regattas as a youth, and make friends that stay with you for life... All the best guys see you there!


Pictures 1, 2 & profile-shot copyright Peter Bentley, Picture 3 copyright Giles Fletcher.