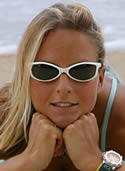 Camilla French
Camilla grew up in Lymington on the south coast of England, and she learnt to windsurf at the age of 18 with the UK Sailing Academy. Fellow competitor Charlie Connelly was Camilla's first windsurfing instructor at the UKSA centre in Barbados, and now, seven years later, they compete together at UK Wave events.
Name:
Camilla French
Year of Birth:
1979
Height:
5' 9'
Weight:
66kg
Hometown:
Lymington
Started Windsurfing:
1997
Disciplines:
Slalom, Wave
Best Results:
6th PWA Waves Overall 2003
4th in UK Triple Crown Overall 2003
4th in UK Triple Crown Overall 2002
Sail Number:
K270
Sponsors
Fanatic, Ezzy, Animal,
Da Kine, Electric Eyewear
In 1998, Camilla went to study Languages at Exeter University, but she had already caught the travel bug and spent every spare moment planning trips abroad in search of warm water, wind, waves or snow. During her four years at university, Camilla travelled to Kos, Corfu, Vassiliki, Tenerife, Gran Canaria, Tarifa, Cabarete, Indonesia, the Hawaiian Islands and Lake Tahoe, and spent three winter seasons working in the French Alps. In the summer holidays she worked as a windsurfing or wakeboarding instructor, and did temporary marketing and corporate hospitality work to fund her next trip abroad.
Camilla had her first taste of competition in Cabarete Race Week 2001, and she decided to follow her dreams and windsurf full-time when she graduated from university a year later. She competed in her first UK event at the White Air contest in October 2002, and then spent three months wavesailing and surfing in Western Australia and Maui. The opportunity to sail in these world-class wave locations motivated Camilla to start competing internationally. 2003 was her first year competing on the PWA World Tour, as well as on the UK Wave and Triple Crown circuits. In addition to being a professional windsurfer, Camilla is also a freelance photojournalist, and her work is published regularly in watersports magazines in the UK and abroad. Over the next few years, Camilla plans to compete in PWA and UK Wave events, and to travel with friends to new and exciting windsurfing locations, documenting their adventures and writing travel features for watersports and lifestyle publications.