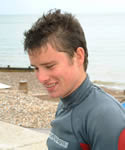 Dan Binney
My father who had an interest in the sport introduced me to the world of windsurfing at the age of 7. I sailed a mini-bic on my local pond. I started racing at the age of 11 when I took to the water on a junior one design. After a year racing at regional level I made the move to the Tushingham 103 class, which I raced for two years at national and regional level. In my last year I came second at the RYA national championships.
Name:
Dan Binney
Year of Birth:
1984
Height:
170cm
Weight:
64 kg
Hometown:
Appleby
Years sailing:
10
Best Results:
4th ISAF youth world championships '02
1st IMCO youth national series '02
1st Aloha national series '00
Discipline:
IMCO
The following year I moved on to the Aloha class where I started racing with the UKWA. In my first year I qualified to join the team traveling to Martigue, in southern France, where I competed in my first world championships. I finished somewhere in the 40's. The following year was my final year on Aloha. I won the UKWA national series and decided to carry on racing in the Olympic One Design class. In 2001 I took my GCES's and windsurfing had take a back seat. In 2002 I decided to have a year off school to concentrate on windsurfing. I had a great time and competed in several international regattas.
In May 2002 I was selected to represent Britain at the ISAF world championships in Canada where I just missed out on a medal, finishing 4th. The same year I won the UKWA One Design youth title. This year I am carrying on my education in the 6th form at Appleby Grammar School but hope to also continue to improve my sailing.