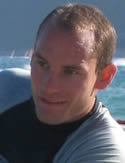 Daniel Newman
My first taste of windsurfing was at the age of 13 when I struggled out on my Dad's Vinta with a huge sail. After that I soon persuaded my parents to invest in some well needed equipment and started to progress.
At age 18 I was fully hooked and windsurfing had taken over, now not just my hobby but also my job. Working as an instructor gave me the perfect playground in which to practice and perfect my windsurfing, taking it to a new level.
My wife Charlotte then encouraged me to take it a step further and test my self in competition. Competition has helped to both push and develop my own sailing as well as being an opportunity to meet lots of new faces and have a great time. I recommend it to everyone!
Name:
Daniel Newman
Year of Birth:
1980
Height:
177cm
Weight:
70kg
Hometown:
Stamford
Started Sailing:
1993
Disciplines:
Wave / Freestyle / Super X
Best Results:
1st Marazion Freewave 2006,
1st Amateur Bigbury Wave Classic 2003,
2nd Amateur Wave Champion, White Air 2003.
Sail Number:
K122
Sponsors:
Tushingham, Starboard, Tallingtonlakesproshop.com.