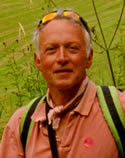 Dick Pratt
I've sailed International Raceboard Class since 2006. I'm sticking with the Demon 9.5m2 with lightwind battens up to about 15kts, then the highwind Tush Lightning 9.4m2 will become optimal, leaving the Tush Lightning 7.8m2 to deal with the top-end of course racing viability. My beloved F2 Raceboard is still in good nick. Now living full-time on the coast has given me more opportunities to practice over the winter in Chichester Harbour.
| | |
| --- | --- |
| Name: | Dick Pratt |
| Height: | 5' 9" |
| Weight: | 80 kg |
| Hometown: | Bosham |
| Disciplines: | International Raceboard |
| Sail Number: | GBR666 |
I still most enjoy racing around the cans with a decent swell running and I still think that the UKWA race team are probably the best team in the world to get us racing in a phenomenal range of weather, sea and tidal conditions. When there is no windsurfing to be had, I also race an Olympic Single Handed Finn in Chichester Harbour around the various harbour clubs and enjoy sociable cruising in a micro-tonner. The purchase of a GPS has re-kindled my interest in sailing slalom boards.
Ambitions: To get a podium position in raceboard soon! 2. To compete in a slalom event and get a satisfactory result
Whats Hot: Bob Dylan's Theme Time Radio Hour
Whats Not: The new Southern Railway timetable