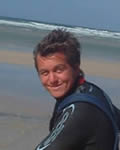 Gavin Rogers
Born in Wrexham, North Wales the first experience of windsurfing began at the age of 10 on Bala Lake with the support of his parents, these days training normally takes place along the North Wales coastline and in particular Rhosneiger. The racing started at the age of 14 by getting involved with the Welsh youth squad and from there on a progression to the RYA youth squads. In 1999 full time windsurfing was brought into reality with the help of the Welsh Sports Council. For 2 years racing internationally on the Olympic Scene was a massive experience with some good memories.
At present Gavin is studying in his final year of his sports science/ business degree that finishes in June 2003, once that's out the way windsurfing will be the priority with the aim of competiting on a full time basis.
Name:
Gavin Rogers
Year of Birth:
1980
Height:
6' (with heels!)
Weight:
67 kg
Hometown:
Wrexham, N. Wales
Sail Number:
GBR 69
Years sailing:
13
Discipline:
IMCO
Best Results:
Int. Raceboard British champion 2001 & 2002
3rd Austrian Lakes Eurolymp
Sponsors:
PRO Limit, Boardwise,
Fitness First, Boardseeker.com
BEST MEMORY: 1999 Isle de Pins, New Caledonia Island's race, 'the place was immense!' Even though I had to share a place with Proffitt and Imco Jones.
WORST MEMORY: Going after Geoff Monk when he was floating over the Saudi Arabian border with a broken boom at dusk with a bloody leg in Tiger shark land with the Saudi army boat coming after us.
BEST THING I EVER BOUGHT: A ticket to see the best football match ever (Wales 2 Italy 1, 2002) the best £15 I have ever spent!
GOALS:
To get on the water as much as possible on finish of Degree in June
Win British series for the 3rd year running
Top 15 Worlds