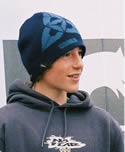 Graham Woods
I was 12 when I started windsurfing we went down the local lake and from my first time on I was hooked. I went into the racing scene and learnt how to windsurf that way but I only started sailing shortboards at the beginning of 2003. I carried on racing till beginning of 2004 when I quit and went into freewave.
At the end of the year me Adam Lewis and George Shillito formed Team AirBorn so we had an excuse to go training together and push are selves to the max. Then I came first at bigbury and this got me a joint 1st in the triple crown. Then I went to the London Boat Show I didn't think I would do that well being put up against slalom but I did all that training paid off after all.
Name:
Graham Woods
Height:
5' 4 "
Weight:
8 ½ stone
Year of Birth:
1989
Hometown:
Bridgwater
Windsurfing since:
2001
Disciplines:
Freewave
Best results:
1st Junior Indoor London Boatshow
1st= junior triple crown
2nd rosnieger wave championships
Sponsors:
604 and Windsurfers World.
Check out Team AirBorn's progress on teamairborn