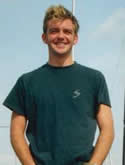 Guy Solven
Guy Solven is 21 years old and lives in Herefordshire. started windsurfing when he was six and was taught by his Mum and Dad who are also keen windsurfers. His early windsurfing experiences were on Llangorse and Bala Lakes, with wave sailing on the Pembrokeshire Coast. It was on Llangorse Lake that he was spotted by Welsh National Coach Issy Hutchinson. Guy was encouraged to join the regional coaching programme, and throughout 1993 and 1994 he represented Wales in many competitions, including the prestigious Eric Twiname Championship in Kent and later Helensborough, Scotland.
Name:
Guy Solven
Year of Birth:
1982
Height:
6'
Weight:
70 kg
Hometown:
Nr.Malvern,Herefordshire
Years Windsurfing:
16
Disciplines:
Racing
Best Results:
National Aloha Champion 1998,
National Mistral Youth Champion 1999,
1st Espoir Formula UKWA 2002.
Sail Number:
GBR 54
Sponsors:
Boardwise, Offshore Sports,
Gaastra, Starboard, Kreative Sail
Graphics
During 1994 and 1995 Guy moved from the Junior One Design board onto the larger '103' board and gained some notable results such as 1st Newcomer in the RYA Youth and Masters Championship at Weymouth. He also began to compete in the National Circuit.
In 1996, Guy moved up onto the 'Aloha' One Design board and worked his way up through the Aloha Fleet. He became 1st Junior in the UKBSA National Series and became the RYA under-15 Champion at Weymouth in September, and was also UKBSA under-15 Inland National Champion at Grafham Water. He was chosen as the RYA's most promising Junior and represented Britain (at 14) in the World Championships in Cadiz.
In 1997 Guy qualified for the British Elite Windsurfing Squad and in the World qualifiers (22 races) came out as top youth.He came 2nd overall in the National Series and 4th overall in the North Sea Cup. In the World Championships in Poland he came 25th overall.
In 1998 Guy again qualified for the Elite Squad. He became the Aloha National Champion at Weymouth in May, came 2nd in two legs of the North Sea Cup, qualified as top Youth again for the Worlds, where he got into the Gold Fleet and came 15th overall at La Tranche in France. Towards the end of 1998 Guy moved onto the Mistral board and sailed well to qualify for the British Mistral Squad for 1999. Right at the end of the 1998 season Guy put in a screeching performance at the Inland National Championships at Grafham to finish first Olympic Youth and 4th overall.
1999 was a great year for Guy, where he achieved the following results:
UKBSA National Youth Champion
UKBSA National Series Youth Champion
UKBSA National Youth Inland National Champion
North Sea Cup- 2nd Youth overall
European Championships- 9th in Men's Silver Fleet
World Championsips - 20th in Gold Fleet.
In 2000 Guy started University, and with the increased pressure of study decided to change boards from Mistral to Formula, to give himself time to train and develop using the Formula board. He managed the change very successfully and came 1st Youth, 5th overall in the UKBSA National Series and was 1st Youth and 16th overall in the BWA National Series. Guy left the Youth class in 2001 and came 2nd Espoir and 11th overall in the newly amalgamated UKWA National Series. 2002 saw Guy moving up through the fleet to finish the series 1st Espoir and 7th overall.Internationally Guy was chosen to represent Great Britain in the ISAF World Sailing Games in Marseilles in July, where he achieved 10th place in the Men's fleet.
In 2003, with heavy academic pressure in his final year at University,Guy raced the National Series to come 7th overall and 2nd Espoir. In the Formula Experience European Championships in Portugal he was 4th in his class.
With a good Degree under his belt in Graphic Design and Interactive Media Guy is looking forward to 2004 and working as a Designer at Metropolis Studios, Chiswick; check out their website www.metropolis-group.co.uk. The Indoor Championships at the Boatshow was a great start to the season with Guy speeding through to the last 16 and eventually being knocked out in a head to head by his great friend and mentor Guy Cribb. He is also aiming to move into Freewave. Guy has recently qualified as an RYA Race Coach.