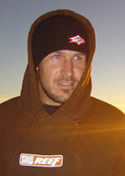 Jan Sleigh
Jan has been windsurfing for 20 years. He got into the sport after he and his brother met some girls with a board during a holiday in France. When they got home Jan sold his stereo, records and anything else he could so that he could buy his first windsurfer. After attending Southampton University, because it was close to the beach, he took up a career in Marketing. While climbing the corporate ladder, Jan started competing when he came 3rd in the amateur expression session at the 1992 Tiree Wave Classic. Since then he has competed every year in UK wave events while maintaining full time employment. He now owns and runs his own marketing consultancy which has given him the opportunity to windsurf more and travel the world in search of wind and waves, including Western Australia and Hawaii. During 2003 he fulfilled a dream by competing in all the PWA wave events .
Name:
Jan Sleigh
Year of Birth:
1969
Height:
183cm
Weight:
85kg
Hometown:
Rowlands Castle
Sailing since:
1984
Disciplines:
Waves & Freestyle
Best Results:
Being able to fulfil my dreams
while keeping fit and healthy
and competing for all this time
and still learning new things!
Sail Number:
K172
Sponsors:
Naish Boards & Sails, Reef Shoes, O'Neill
Wetsuits, Senate Partners Management
consulting, IBG Ecommerce & web solutions,
hyperdestiny Marketing, Lava Shades,
Greenslades Travel
Jan is extremely friendly and approachable, loving life on and off the water. You can see him every day it is windy at his local beach of Hayling Island where he'll be throwing old school cheese rolls mixed with new school freestyle moves, big forward loops and tabletops. His style is radical and energetic and unpredictable as he can pull out the stops in wilder contest conditions and throw the occasional double cheese roll!
Photos courtesy of Julia Deutsch.