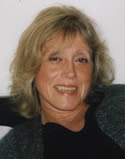 Janet Pain
Started windsurfing in 1983. Sails 7.5 Raceboard in London region and UK events and shortboard for fun.
Vice-Commodore of Queen Mary S.C., Event Secretary of LWA.

Name:
Janet Pain
Year of Birth:
1952
Height:
5' 4"
Weight:
61 kg
Home town:
Amersham Bucks
Sailing Since:
1986
Disciplines:
Raceboard
Best Results:
2nd Lady Grand Master at World
Raceboard Masters, Rome 2001.
Sail Number:
538
Favourite windsurfing spot: Lake Garda.
Other sports: aikido (2nd kyu), badminton, mountain biking.