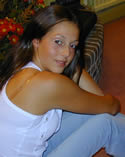 Jilly Bromley
I have been on the national circuit since I was three because my brother was racing (Sam Bromley). I started racing in the Northwest region because in Wales there was no racing. I did my first full year racing on the national circuit in 2002 racing aloha and came 11th overall and 3rd girl.
Name:
Jilly Bromley
Year of Birth:
1988
Height:
5'6"
Weight:
55kg
Hometown:
Buckley, North Wales
Years Racing:
4
Disciplines:
IMCO, Mjod and Learning
Freestyle and wave sailing
Best Results:
Welsh Champion,
2nd girl youth and masters 2002,
5th Poole freestyle finals 2003
Sail Number:
GBR 752
Sponsors:
F2, Arrows, Boardwise,
Boardseeker, Sola wetsuits,
Parents

This year I have been racing and training on IMCO Mjod. I went to the European championships and came 11th but I missed 2 races because some stupid boy knocked me off and drove into my head, sounds funny now doesn't it? I am also going to the world championships in November.
I'm learning to do freestyle and getting really wet doing it, but its all fun. I really want to become a pro windsurfer so after I have finished my GCSE's next year my time can be dedicated to windsurfing.