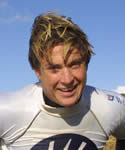 John Skye
Born in Luton 28th June 1977, he was introduced to windsurfing through his dad. It was 1990 and 'Skyeboy' was only 13 years old. Every weekend and after school, if it was windy, they used to go and sail on Brogborough Lake. As his windsurfing developed, he continued with his studies and ended up at Southampton College. After passing his driving test, he then found it easier to visit coastal locations sailing 'whenever it was windy'. After college he spent a year with his girlfriend in the Canary Islands. The conditions proved to be a valuable training ground in preparation for turning pro.
Name:
John Skye
Year of Birth:
1977
Height:
5' 11'
Weight:
80kg
Hometown:
Southampton
Years Sailing:
12
Disciplines:
Freestyle & Wave
Best Results:
IFCA European freestyle champion
2nd IFCA European wave.
9th PWA Ireland Wave Event
Sail Number:
K57
Sponsors
F2, Arrows, Northshore,
Chiemsee, O'neill Wetsuits,
Team Fakefish, Opodo.
Standing at 5'11" and weighing 80kgs, he is perfectly built to compete on the tough and challenging wave and freestyle tour, where he is beginning to cause quite a stir on the circuit. Relying on his sailing, rather than premature over promotion, his talents do the talking. This understated and thought-out approach means not too much is expected of him, so he can make progress at his own pace. His inspiration comes from other top sailors, particularly Goya, Polakow and Siver. Their influence can be seen in his perfected and favourite move, the one-handed back loop.