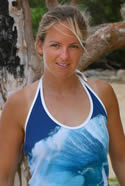 Louise Emery
Louise started windsurfing in 1998 as part of a 6 month course to become a watersports instructor. She then worked as a dinghy, kayak and windsurf instructor at the Welsh National Watersports Centre (Plas Menai) in North Wales for the next 4 years.
In 2002 she decided to compete on the UK Wave Sailing Tour and finished 2nd overall in the wave rankings and 3rd overall in the freestyle rankings.
Name:
Louise Emery
Year of Birth:
1975
Height:
5'6"
Weight:
60kg
Hometown:
Llandudno, North Wales
Years Sailing:
1997
Discipline:
Freewave
Best Results:
1st Triple Crown Ladies fleet 2003 ,
2nd UK Wave Finals 2003,
2nd Triple Crown Ladies fleet 2002,
3rd at Poole Freestyle Champs 2002 .
Sail Number:
K306
Sponsors
North Sails, Mistral, Boardseeker,
Schroders Investment Bank,
Opodo Travel Company
2003 saw Louise give up her full time job as a watersports instructor to concentrate on her windsurfing career. The result was a fantastic season, winning the UK Triple Crown Series and coming second at the UK Wave Finals on the IOW. With her new sponsors, Schroders Investment Bank and Opodo Travel Company, she is looking forward to competing on the PWA World Tour in 2004 as well as competing at all major UKWA Freewave events. The first of the 2004 season being the Indoor Windsurfing Competition at the Schroders International London Boat Show.