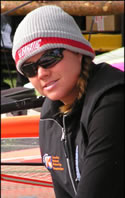 Lucy Horwood
Lucy turned into a professional windsurfer after finishing her degree last year. She has been training all winter and is ready for the 2004 season. This year Lucy will be looking to lead the women's fleet in the UK and also internationally. After a huge success finishing 2nd at the last 3 Formula World Championships she is looking to top the ranking this year.
For the past 2 years Lucy has been IFCA World Champion and with the return of Slalom to the UK and International events Lucy is looking forward to competing in this discipline. Lucy had a huge success on her Fanatic Falcon last year and has been accepted on the International Fanatic Team for 2004. Lucy has changed her sail sponsor to North and hopes that their new relationship will work well and that the sails and boards will make a great winning combination.
Lucy is really looking forward to this year. She has worked extremely hard over the winter and hopes to achieve her goals and more importantly her dreams.
Lucy would like to thank all her sponsors for their support.