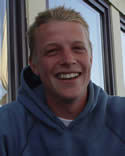 Mark 'Sparky' Hosegood
Born and raised in Bristol, Sparky started windsurfing at the age of ten with his Dad and ever since has had a dream of becoming a full time pro windsurfer. Learning to sail at Weston-Super-Mare and Rhosniger he has an affinity for cross-on, super windy, port tack wave sailing. After deciding that school wasn't for him (or, it being decided it wasn't for him,) Sparky became a windsurfing instructor at the age of 17 and worked abroad for 5 years. Being able to travel, see different cultures and do loads of windsurfing was an incredible way to spend a few years and broaden his horizons.
Name:
Mark Hosegood
Height:
6'1"
Year of birth:
1979
Weight:
80kg
Windsurfed since:
1989
Hometown:
Bristol
Disciplines:
Wave & Freestyle
Best Results:
1st Round 2 Tiree Triple Crown '03
5th Tiree Triple Crown '03
7th Triple Crown '03
Sail Number:
K78
Sponsors
Naish, O'Neill Wetsuits,
O'Shea, White Water, Reef
In order to take his windsurfing to the next level he decided the only way was to start competing and therefore sailing with people better than himself. Not the most competitive person by nature, Sparky is as interested in going sailing at the best locations the UK has to offer with a bunch of his mates that also happen to be shit hot sailors, as testing himself against them.
Having reached the position that he's in; being one of the UK's top pro's, having years of teaching experience and having started windsurfing at an early age, Sparky is putting back into the future of windsurfing with his aim of getting more kids into the sport, getting them into waves and freestyle, and achieving the same levels of skill that are being reached by youngsters in the Caribbean and else where in the world.
Renowned for his big jumps and aggressive wave riding, Sparky has a style that stands out on the water. Having gone through ankle surgery at the beginning of the year, he's out training in the Canaries for the summer and hungrier then ever to fulfil his dreams.