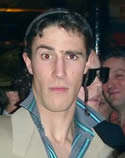 Mark Thompson
Having been scared away from Formula in the early years by the need for nerves, muscles and, most importantly, an obscene amount of expendable income, I thought my racing days had come to a premature end. However, on commencing a proper job the excuse of lack of funds was blown out of the water, and having joined the RAF I thought it was about time I did something about my lack of moral fibre. Trying to hang on to a ridiculously large sail on a dead run seemed like a good way of remedying the bravery deficit - so it was time to enter the Formula fray. I've thoroughly enjoyed getting to grips with the Formula kit this year and the chance to get back into the racing scene; thanks must go to the UKWA for organising such a great series.
| | |
| --- | --- |
| Name: | Mark Thompson |
| Height: | 6'4" |
| Weight: | 77kg |
| Hometown: | York |
| Disciplines: | Formula |
| Best Results: | 1st 11m Formula 2003. |
| Sail Number: | 107 |
| Sponsors | RAF. |
My aim for this year is to try and persuade all the Youths on 11 metres who keep beating me to move up to 12.5's when they're over 21 so I can have a crack at another few event wins. What with that, trying to sail the correct course for once and attempting to find enough free weekends to complete the 86 events required to retain the title, it's going to be a busy year!
"There is no such thing as a favourable wind for a man who has no idea where he's going"