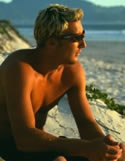 Mat Pearch
By the age of 10 Mat's enthusiasm for windsurfing had grown he had already met a number of his windsurfing idols, which fuelled his passion for the sport. Within a year Mat and his family moved to Shoreham beach, home to many of the great names associated with windsurfing.
The move helped in developing Mat's progress. He sailed trained and was coached by Ant Baker.
Mat is a dedicated individual and spends every spare minute he can on the water training, in all conditions. Between January and March 2002 he could be found in Cape Town, South Africa. He also spends time in Scotland, Ireland and Gran Canaria.
"A lot of effort has to be put into this sport. There is fitness training; hours out on the water whatever the conditions and making sure your diet is good. All of these are a major link to help you achieve your goal." - Mat Pearch
Neither Mat nor his father could have guessed that within a few years he would be competing up against those he had idolised for so long!