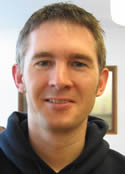 Michael George
Mike first started windsurfing at the age of 15 whilst on holiday with his family in Nefyn (North Wales). He definitely improved during each holiday but there was only so much that could be achieved with one or two weeks practice each year. By Y2K and after several holidays / years without planing conditions he decided that the only way to learn the elusive "carve gybe" was to go somewhere with guaranteed wind. He'd been told that the Canary Islands were good for windsurfing so he found a last minute deal to Lanzarote and set off with one goal in mind... learning to gybe in a fortnight. The holiday was a great success because he started off by learning to use the footstraps and could carve gybe by the end. In the following year he was told about a nearby lake called "Brogborough" so he became a member and ever since that, weekends have revolved around windsurfing!
Name:
Michael George
Sail Number:
K888
Year of Birth:
1972
Hometown:
Stevenage
Sailing since:
1987 (summer holidays), 2001 (weekends)
Height:
178cm
Weight:
70kg
Disciplines:
Slalom and Speed
Website:
MikeG.ws
Best Results:
Club trophies for speed and racing.
Hoping for good national results!
Shortly after joining Brogborough, Mike started freestyling in the lighter winds and worked his way through the old school planing moves before moving onto new school aerial moves. His best move so far is the Spock but other moves are definitely within reach! In parallel with his freestyling, Mike started to take part in the Brogborough Thursday Night Racing and has two series titles to his name. As his racing skills improved, he got noticeably faster and his name can also be found on the Brogborough speed trophy - now GPS based. Given his successes at club level, Mike decided to try UKWA slalom and made his debut at Hove in 2008. Whilst the results were probably nothing to write home about, it was a great learning experience and straight away he knew that he wanted to do the full slalom series in 2009.
Mike had a great time during the first event of 2009 (Rhosneigr) and will also be competing in the remaining events.