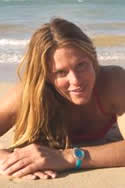 Shawna Cropas
Shawna was raised in Vancouver, Canada on 'Sesame Street', with Dutch and American parents from French and Greek descent. She spent three years travelling in Nepal, China, Vietnam and Southeast Asia whilst making Thailand her home. She also started a modelling career doing European TV commercials shoots in Asia. She learnt to windsurf when she moved to England in 1997. Since then she has travelled around the world creating travel features for the windsurfing press. Exploring New Zealand, Australia, Indonesia, Venezuela, the Caribbean, much of Europe, Egypt and the West Coast of America.
Name:
Shawna Cropas
Year of Birth:
1973
Height:
5'9"
Weight:
9 ½ stone
Hometown:
Vancouver/ Brandon Bay, Ireland
Started Sailing:
1997
Discipline:
Wavesailing and Freewave
Best Results:
5th Wave PWA Ireland 2001.
1st in the British and Irish Wave comps 2002,
Triple Crown Freewave Champion 2002.
British Wavesailing Champion 2003.
Sponsors
Neil Pryde, JP, Animal
Shawna windsurfs and surfs for the lifestyle, and earns a living from the windsurfing industry through competiton, photography and coaching. Shawna lives on the most westerly tip of Europe in Ireland, where she sails in world class wave sailing conditions and enjoys a slower pace of life in between her world wide adventures teaching, taking photos and windsurfing+surfing abroad.