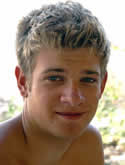 Tom Parsons
I am 17 years old and I train for most of the year in Whitstable, in the south- east of England, at the moment I am still in school, but try and find as much time as I can to spend it on the water, as part of team GYRO, I hope to inspire new people into the sport and promote how cool windsurfing actually is!
Name:
Tom Parsons
Year of Birth:
1987
Height:
5' 9 "
Weight:
72kg
Hometown:
Whitstable
Windsurfing since:
1997
Disciplines:
Freewave
Best Results:
2nd Youth Indoor championship '04
2nd Youth Ireland Triple Crown '04
Sponsors:
Mistral, North sails, Whitstable Windsurfing
Ambitions: To get to as many competitions as I can this year and to get a top 3 place in every event I enter this year, I also hope to compete in atleats one PWA event. Train hard and go big!
What's hot? Training with all the guys in fuerteventura during last summer.
What's not? Training in England this winter! Minus 12 windchill and snow drifts!
Thanks to everyone who has supported me through 2004 from my family and friends to my sponsors for believing in me.