Sponsoring the UKWA
The United Kingdom Windsurfing Association is responsible for the national titles in Windsurfing, we run the following types of events:
Course Racing - upwind and downwind around marks
Course racing is very tactical and energetic, comparable to sail-boat racing but faster and more fun!
Cup Series on the sea: 4 x 2 day events and 2 x 3 day events (2012 - 165 participants, 468 entries)
Inland Series on reservoirs: 5 x 2 day events (2012 - 185 participants, 357 entries)
The UKWA Cup Series includes one event which also forms part of the North Sea Cup Series with French, Belgian and Dutch competitors.
Slalom Racing - crosswind and downwind around marks
Slalom racing is something any windsurfer can do - blasting back and forth. However, on the open sea and with the top windsurfers in the country the speed and skill are spectacular.
Slalom Series on the sea: 6 x 2 day events (2012 - 133 participants, 335 entries)
Freestyle - acrobatic manoeuvres graded by judges
Freestyle provides a spectacular display often very close to the beach. Even when there is no wind there is often scope for competitors to put on a show by using a jetski to tow them upto speed.
Freestyle Series: 6 x 2 day events (2012 - 31 participants, 91 entries)
NB: The UKWA are also associated with the organisation of Wave and Speed events but these are not currently available for sponsorship via the UKWA
Media coverage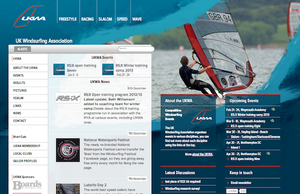 As part of our regular events we publish results, photos and reports on UKWA website which receives ocver 150,000 page views. Other windsurfing media also publishes articles and other media from our events.
Full page ads in Windsurf Magazine each month which include our sponsors' logos, and links from Boards Magazine's website. Usually one or two big articles per season go into the windsurfing press, as well as local articles which usually appear after the event
Current UKWA Membership is around 750, generally the most committed windsurfers in the UK! About half of the people doing racing and slalom are under 22, so it is also a youthful membership overall.
Social media

At the moment we have over 3,200 twitter followers for the UKWA account. Facebook use is building, with just under 1,000 followers of the UKWA page but a lot of activity spread over sub/related comunities with a reach of upto 10k (based on Facebook's stats). We also have an active email list of over 1,000 people, and our reach goes out via other windsurfing organisations such as the RYA.
Exposure to general public varies greatly from venue to venue and also depends on wind direction and weather conditions.
---
Sponsorship possibilities
There are two basic options, sponsorship of a whole Series (Inland, Cup, Slalom or Freestyle), or sponsorship of individual events.
Series sponsorship can be exclusive or non-exclusive. The UKWA reserves the right to obtain individual event sponsors whose products do not conflict with those of the Series Sponsor unless it is exclusive (at the discretion of the UKWA).
The 2013 Slalom Series already has Individual Event Sponsors in place and thus for 2013 only a Non-Exclusive Series sponsorship is available.
In return for sponsorship of a whole Series we would be able to offer the following:
Inclusion of Sponsor's name in Series Title eg "UKWA SPONSOR Cup Series"
Sponsor's logo & link on UKWA website in list of sponsors
Sponsor's logo on prize giving backdrop (where lots of pictures are taken)
Sponsor's name on all individual event and series prizes
Display of sponsor's flags at all sponsored series events (flags to be supplied by sponsor)
Display of sponsor's flags on Course Racing marks (to be supplied by sponsor)
Sponsor's logo on all UKWA adverts in all editions of Windsurf magazine (9 per year)
Availability of sponsor's publicity material at events
Special link from UKWA website to sponsor's website for discount purchases
Link / banner to sponsor's website from UKWA Event report pages
The sponsor would need to provide:
Product prizes
Flags and/or banners for display
Suitable vector artwork
Discount offers to UKWA members (if appropriate, it is often helpful for tracking)
Sponsorship cost
Series and event sponsorship is costed on a per-event-day basis:
| Series name | Exclusive | Non-exclusive | Event |
| --- | --- | --- | --- |
| Cup series) | £4200 | £2800 | £300(£400 for 3 day event) |
| Inland Series | £3000 | £2000 | £250 |
| Slalom series | NA | £2000 | NA |
| Freestyle series | £2250 | £1500 | £200 |
Supplementary items
Further possibilities which would be charged at cost:
Sail Stickers - Competitors can be required to put these on their sails (most have at least two sails), and they remain there for the whole season (and often longer). 500 sail stickers 300 x 200mm printed two colours on white background, approx guide price in 2012: £320.00
T-shirts with sponsors' logo, Series Title and advertising info. 100 white t shirts, printed 2 colours on front & 2 colours on back, approx guide price in 2012: £315.
Lycra Rash Vests: (To be worn over wetsuit top whilst competing). 2 colour back, 2 colour chest, I colour L & R sleeve. Approx guide price in 2012: qty 100 £3084 inc VAT plus delivery
Flags: Guide price: £100 per flag
Banners: Guide price for 6ft x 3ft banner £100
Photography and video per day: price on application
Other possibilities include logos on course marks, on clothing for official boat crews and on UKWA boats.
For more information, contact:
For more information please contact Rod Davis 01895 846707 (Day/evening) or email: info@ukwindsurfing.com
Events in 2017
To see the dates and locations of the events, see the UKWA Event Calendar , or specific calendars for: