Cup 6 Wingfoils Only -
Pwllheli
Fri 25th

-

Sun 27th

August

UKWA Windsurfing Week, the camp site will be open from Monday 21st August, for practice, training, or just for holiday. Please make sure you book in advance below. For training please refer to your class. (UKWA rescue only provided during the three days racing)
Now Three fantastic days of racing. Fri/Sat/Sun +++
Can't do all three days but still want to attend Saturday & Sunday, then email admin@ukwindsurfing.com before entry closes for further instructions.
Not only will there be three days racing, but the site will be open from Monday 21st for training and social Windsurfing and Wing Foiling. Please note there will be no UKWA rescue other than during the race event.
This is the Cup 1 Entry Page for All Wing Foils.
For Cup 1 Entry for Techno & Youth Foil go here
For Cup 1 Entry for Raceboard & Youth Adults go here
New for Wingfoils 2022 Course Racing
Format - Predominatly Upwind/Downwind (example below) with occasional Downwind Slalom and occasional Long Distance Races. Example courses below. For all courses see Sailing Instructions.
Notice of Race (Go to official notice board)
Sailing Instructions (Go to official notice board)
Windfoil Equipment Limitations Guidance
Other event documents and policy documents including Covid policies and procedures
Course Race Flags 2023 (Go to official notice board)
Course Race 2023 Event Sponsors
The UKWA thanks it's sponsors


Who can enter ?
Racing will be in the following fleets and sub-divisions where notified:
There will be no kit limitations
Within these fleets the following age categories (divisions) may be recognised:
Junior (aged 16 or under as at 31st December 2023)
Youth (aged 18 or under as at 31st December 2023)
Adult (19+)
How do I enter & how much will it cost ?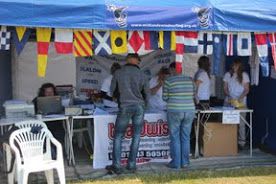 Entry will be online only.
On Line Pre entry closes at 10pm on the Monday prior to each event. Should you miss the deadline please contact admin@ukwindsurfing.com
Why enter on line? Entry to UKWA events is online only. Entry fees are below, however if you enter 5 or more events across Slalom and or Course Racing (excluding National Windsurfing Championships) you will receive a 15% pre entry Discount. Late entry may be accepted but there will be a £5 late entry fee to cover our additional administration costs.
How much will it cost ?
Adult £85
Junior/Youth Under 20/Full time student £70
Note: Event entry fees at Weymouth are £15 more than other locations.
Please Note: You need to be a member of the UKWA to enter any course racing events. To join the UKWA go to JOIN HERE.
For course racing you may take temporary membership once only for £15 as an introductory offer. If you upgrade to full membership over the same weekend the £15 can be deducted from the full membership payment. JOIN HERE.
Please Note: Only members can pre enter. You will need to log in to see the entry options.
Camping and or car parking fees normally apply.
In addition all vans, tents and motorhomes parked on site are required as per terms of entry to carry an appropriate fire extinguisher.
Camping
Camp site charges £21 per night payable via UKWA
You should read the Notice of Race
You should read the Sailing Instructions
These two documents should tell you everything you need to know about racing at the event. Of course if its your first time or you have not attended for a while then you may have a question or two. See contact below.
Contact
For any help/ further information you require please contact Bob Ingram racing@ukwindsurfing.com
Communication

The UKWA will be using its Public Address System to make announcements this weekend
However in addition we will be using a smartphone App. Whilst the PA system works well if you are in proximity, we can now talk to you directly via your smartphone throughout the event.
Not only can we talk to you, if you miss the transmission you can play it back so you never miss a thing.
If you want to be part of this then please search for and download the App called Zello Once you are signed up you go to Channels and search for UKWA including the UKWA logo.
So long as you have the App open at the event you will receive our transmissions
Further details at the events, just ask a member of the race crew.
Please note: Neither of the above replaces an individuals responsibility to The NoR, The SI's, Flags and The official Notice board
Feedback
The UKWA welcomes your honest feedback on its events. Your feedback at the event or completed within 4 days on line will be collated and published on line with a selection of comments. You may add your name or remain anonymous.
Please download a form here Feedback Form and e-mail to The Feedback Administrator
Feedback Results
Results of the event feedback and a selection of comments will be posted here
Venue
About Pwllheli
The UKWA will not be racing out of Pwllheli Sailing Club.
Instead the UKWA will be returning to one of its favourite venues. Abererch Sands Holiday Centre. Follow the link to their web site for further details of the site Abererch Sands.
Please do not contact the site in advance as this causes confusion. The UKWA has sole use of an event field and overnight camping will be charged at the substantially reduced rate of £21 per night. This must be booked in advance via the link on the UKWA event page.
There are a limited number of electric hook ups which will be available on a first come first served basis however you will be expected to share. Once your batteries are charged you will be expected to give up the supply to anyone else who require it. We trust people will work together so that all can benefit, but please be aware the UKWA will not hesitate to interveen if individuals are acting in a selfish manor not suited to a UKWA event.
There are ample toilets and showers on site, small swimming pool, snooker room and shop.
PLEASE NOTE; NO WETSUITS IN TOILETS / SHOWERS OR SWIMMING POOL AT ANY TIME.
The present owners hosted our previous visits and we are grateful for their co-operation in hosting our return
The beach is located off the camping area, all in all an ideal location for a windsurfing event.
Location
The site is located on the left approximately one mile before Pwllheli sailing club. For your sat Nav the postcode is LL53 6PJ
Terms of attendance
The UKWA reserves the right to exclude or expel any member / non member / family / group or individual from its event site should it be considered that they may by their actions or the perception of such bring the UKWA, its hosts other parties or individuals into disrepute. The UKWA Committee, in part or in it's entirety, shall be the sole judge of such action, and their decision is deemed final.
Persons expelled shall leave the event site within 30 minutes of any verbal notice and shall not return. Exclusion may be deemed temporary (this event) or permanent (all events). Permanent expulsion shall be the decision of the elected committee and shall be confirmed in writing within 21 days of any temporary expulsion, however any excluded individual may not attend any UKWA events during this period of consideration.