Getting Started in Racing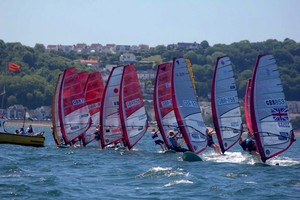 Racing is about getting around a course, competing with lot of other people. All you need to race is some kit, either a raceboard with a daggerboard and a sail or a Formula board. Your sail needs your official sail number which you will be allocated when you take out UKWA Membership.
What happens on a race day
When you enter an event, this is a typical first day of racing:
Registration (from 8:30 am) - The Registration Desk is normally open from 08:30.If you have entered on-line all you need to do is sign the Entry Sheet, otherwise you will have to fill in the full Entry Form and pay the Entry Fee.
Briefing (around 9:45) - An overview of what will happen today, such as what type of course there is, what flags are used etc.
Go afloat for the first race (around 10:30) - A flag is raised that indicates you need to leave for the first race. You also take a tally, so that later we can work out everyone is back on the beach.
Racing - The start sequence begins, with a set of flags and sound signals counting you down to the start. You get around the course as quickly as you can, for as many laps as were announced at the breifing.
Next race - As you go over the finish line you should see a flag indicating whether there is another race immediately, or if you have time to go back to the beach.
Types of kit / fleets
There are a few different types of kit you can race with:
Raceboard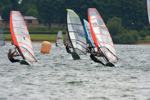 A longboard with daggerboard, the ultimate light-wind racer that can also carve gybe around a slalom course.
Formula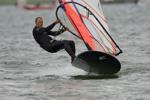 Planing in 8kts and up, these wide & short boards are designed for course racing. (And Formula can change your life!)
RS:X / RS:One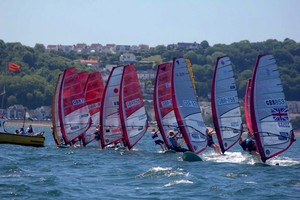 The Olympic class boards, these are one-design hybrids that combined raceboard and formula style racing.
Techno / Junior Racing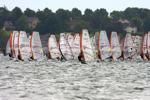 Course racing for under 17s is on the Bic Techno 293, with two age groups it is often the biggest fleet.
If you are looking to race on freeride gear then Slalom is a better bet, but we'll have more information on racing kit coming soon.
If racing seems like something you'd like to try, come along to an event and say hello, or ask a question in the forum if you aren't sure.
Regional racing
A great first step into racing is via a local region. The two most active regions at the moment are the London region and North East. The London region has a website with a more detailed starting racing page.