About Slalom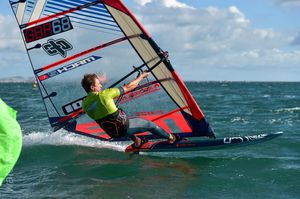 Scotty Stallman British Pro Fleet Champion 2021 & 2022
All New Slalom Fleets for 2023
Slalom represents windsurfing in its purest form. No matter what your ability, the kit you use or the discipline you specialise in.
At a Slalom event you choose a fleet to suit your interest, your kit and your ability. Everyone is welcome.
Master Blaster Fleet: Any kit, launch from the beach, round one buoy, and back. Sometimes a second buoy will be added by the shore for you to take on a second lap. This course is known as "figure of eight" First back to the flag wins.
National Fleet: New for 2023. The National fleet will be split into two divisions, those using slalom kit and those using freeride kit, however both divisions will be raced together with prizes being awarded to both divisions from the overall results
Slalom Fleet Division- Fin only - Racing in 11knots+ Any Slalom Boards (additional freeride boards may be used as required). Any Sail
Freeride Fleet Division - Fin only - Racing in 11knots+ Any Freeride Board. Any Freeride Sail
A list of slalom boards & sails excluded in the freeride fleet will be published, anyone in doubt should contact slalom@ukwindsurfing.com prior to any event. The excluded kit list can be found on The Official Notice Board

Lightwind foiling may also be offered for the National Fleet should conditions permit, in 7-11 Knots. A separate set of results will be published. This is optional and included in your entry fee.
International Fleet New for 2023. The International Fleet will follow the structure of IFCA, except that a second foil sail will be allowed and a 50mm tolerance will be allowed for any pre 2023 foil board. Two separate compertitions will be raced, 1. Fin. 2. Foil. Fleets will race separatley and two separate sets of results will be published. Competitors pay one entry fee and can choose to race in either fleet or in both if they prefer
Foil racing - 7-15 knots
Fin Racing - 11 knots+
The race committee will decide which format is being raced at any given time. The decision will be made based on conditions at the time and the perceived forecast. The fleet being raced can change at any given time
A full list of equipment limitations for all slalom fleets can be found both on The Official Notice Board and here.
For the National & International fleets you need to be a UKWA member to enter an event, then online entry is easy (see membership for more details).
If you are not a member of the UKWA you can still enter in the Master Blaster fleet. See the link on the individual event pages or you may enter on the day.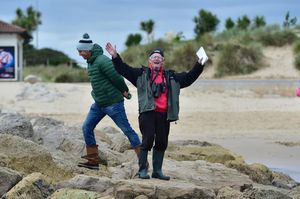 Mr Masterblaster "The Ancient Mariner" (Brian)