Slalom 1 -
Tenby
Sat 3rd

-

Mon 5th

April
About Slalom
UKWA Slalom represents windsurfing in its purest form. No matter what your ability, the kit you use or the discipline you specialise in, everyone can relate to the exhilaration of blasting back and forth, trying to squeeze that extra bit of juice out of your kit whilst racing your mates.
At an event you choose a fleet to join depending on your ability, and blast around a simple course, trying to get to the finish the quickest!
At the events, there are several fleets:
Master Blaster Fleet: Any kit, launch from the beach, get around one bouy any way you can, and get back! First back to the flag wins.
Amatuer Fleet: The stepping-stone to the Pros, you need to be able to gybe around a 5 bouy downwind course.
Pro Fleet: People who have plenty of competitive experience, and racing slalom within the International Rules.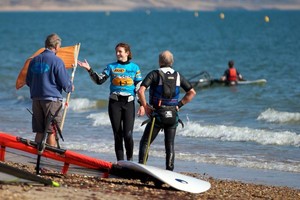 If you are not a member of the UKWA you can still enter in the Master Blaster fleet, although we do have to charge an extra £10 to cover event insurance.
For the Amateur or Pro fleet you need to be a UKWA member to enter an event, then online entry is easy (see membership for more).
Tenby Slalom Easter Weekend - Sat 3rd - Mon 5th April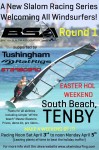 Tushingham Sails and Starboard UK have teamed up with Rat Rigs Watersports to host the very first event of the new British Slalom Association series on the beautiful south Wales coast.
Tenby is a little further to travel than your local sailing spot but well worth the extra miles. It's a beautiful location that delivers superb slalom conditions in a wide range of wind directions and offers shelter from the ocean swells. The Surflink building, which hosts the lifesaving and rowing clubs, provides excellent shower facilities and there's an abundance of good campsites and hotels nearby.
Held over the Easter Holiday Weekend, racing will take place from Saturday lunchtime to Monday lunchtime, allowing competitors and families plenty of time for travelling and to avoid Bank Holiday traffic.
A significant change to the slalom series for 2010 will be the racing format for newcomers to racing and those a little nervous about giving it a go. The BSA series will see a "Master Blaster" class, high on enjoyment without the pressure of battling experienced racers. It's simple round-the-buoy-and-back racing, following the massive success of this format at the National Windsurf festival. In between these races, competitors can watch top-level national racing while team riders will offer coaching and demo gear. Every new racer to enter the Master Blaster fleet will go into a draw for a new Tushingham sail, which will be drawn at the prize-giving.
Tushingham's Paul Simmons comments:
"The location is absolutely stunning and a few years ago hosted some of the most exciting slalom racing seen in recent years on UK shores. As well as catering for the elite racers, one of the main aims of the BSA is to provide accessible and fun racing for everyone. Whether you're a serious racer or just want a good weekend of windsurfing, there's no better location to give it a go - so come along and make a holiday weekend of it!"
Tenby is going to be a cracker, with plenty happening on and off the water:
Master Blaster "round the buoy and back" fleet where ALL SLALOM NEWCOMERS at Tenby will be entered into a prize draw for a NEW TUSHINGHAM SAIL!
Pro & Amateur fleets with great prizes
Demo kit available
"SNAKES AND SLALOM LADDERS" Windsurfing Quiz with prizes
Superb town for evening social
SUP boards (and possibly racing if no wind)
Excellent range of hotels and campsites nearby (see below)
Great surf locations nearby
Venue

For those that like a bit of luxury there are several quality hotels, but as it's Easter they're booking up fast!
For those seeking slightly more modest accommodation there's a whole host of decent B&B's. Plus family oriented camping:
Or always "the back of the van" for the cheapest and coldest accommodation! However, at the South Beach event site showers will be available at the surf club and the public toilets will be open. All competitors MUST display valid parking tickets for all spaces they take up. As with all race events, everyone must respect the local community with regards to litter, noise and general conduct. The UKWA has always been made very welcome and we would all like this to continue!
Terms of attendance
The UKWA reserves the right to exclude or expel any member / non member / family / group or individual from its event site should it be considered that they may by their actions or the perception of such bring the UKWA, its hosts other parties or individuals into disrepute. The UKWA Committee, in part or in it's entirety, shall be the sole judge of such action, and their decision is deemed final.
Persons expelled shall leave the event site within 30 minutes of any verbal notice and shall not return. Exclusion may be deemed temporary (this event) or permanent (all events). Permanent expulsion shall be the decision of the elected committee and shall be confirmed in writing within 21 days of any temporary expulsion, however any excluded individual may not attend any UKWA events during this period of consideration.