Slalom 8 -
Weymouth Academy
Sat 23rd

-

Sun 24th

October
About Slalom
The BSA represents windsurfing in its purest form. No matter what your ability, the kit you use or the discipline you specialise in, everyone can relate to the exhilaration of blasting back and forth, trying to squeeze that extra bit of juice out of your kit whilst racing your mates.
At an event you choose a fleet to join depending on your ability, and blast around a simple course, trying to get to the finish the quickest!
At the events, there are several fleets:
Master Blaster Fleet: Any kit, launch from the beach, get around one bouy any way you can, and get back! First back to the flag wins.
Amatuer Fleet: The stepping-stone to the Pros, you need to be able to gybe around a 5 bouy downwind course.
Pro Fleet: People who have plenty of competitive experience, and racing slalom within the International Rules.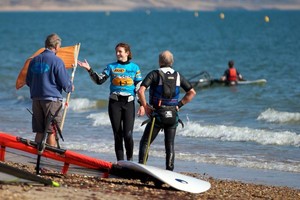 If you are not a member of the UKWA you can still enter in the Master Blaster fleet, although we do have to charge an extra £10 to cover event insurance.
For the Amateur or Pro fleet you need to be a UKWA member to enter an event, then online entry is easy (see membership for more).
The Final crowning event of what has been a hugely successful 8 race series so far will take place at the Home of British Sailing and the 2012 Olympic host venue- Weymouth. Famous for its sheltered waters, guaranteed wind and superb flatwater high speed conditions, Weymouth, will be welcoming the BSA for a second time this year and like with the first we can expect excellent conditions and a warm welcome from the OTC boys and girls in one of the worlds premier windsurf racing arenas.
The BSA Finale will see the crowning of national champions from across competitive windsurfing in an end of season dinner and party on the Saturday night which all competitors are welcome to attend with a live band till late into the night! The racing will follow the simple format of downwind slalom- fast and furious with the main focus being placed on the ever popular master blaster fleet, out and back- beach start, one gybe and a sprint finish.
Simple fun and highly rewarding with some great prizes on offer for all who enter.
Hosted by The OTC, racing will based at the National Sailing Academy with full access to this superb facility for all competitors. As well as racing, competitors can enjoy a huge array of demo kit available to try from all the BSA brands as well as benefiting from technique clinics and talks given by the brands sponsored team riders who will be on hand to share some of their secrets!
Its fun, inclusive and there for everybody regardless of ability or kit quiver! The BSA will also entertaining an impressive youngster turn out with numerous under 15 junior Team15 sailors already signed up to attend and compete alongside Olympic medal winners Nick Dempsey and Bryony Shaw.
Venue

Weymouth & Portland Sailing Academy.
WPNSA, Osprey Quay, Portland, Dorset, DT5 1SA Tel 01305 866000
About The Academy
WPNSA officially opened on 1st April 2000, with residence taken up in the converted ex-naval offices, whilst the plans for the new Academy were taking shape.
The clubhouse was opened officially in June 2005 and includes 30 pontoons, new slipways and much expanded room for boat storage and car parking.
The academy has excellent shower, toilet and changing facilities. In addition there is a cafe style restaurant with free wi-fi including use of two computers. A viewing deck overlooks the harbour.
There is no grass for rigging and although large carpet mats have been installed these soon get full so a rigging mat is always a good idea.
The slipways at Weymouth are generally extreamly slippy, so extra care should always be taken especially at low water.
Academy Website: www.wpnsa.org.uk
Directions
By Car From DorchesterTake A354 to WeymouthFrom Poole and BournemouthTake A352, which then becomes A353 to Weymouth From BridportTake B3157 to Weymouth
When you arrive at WeymouthTake the A354 to Portland. This will bring you to the causeway linking Weymouth and Portland. Halfway along the causeway you will reach a mini-roundabout. Turn left, we are signposted 'Sailing Academy'.
By BusWeymouth and Portland National Sailing Academy has it's own bus stop.
Camping
NB: Overnight camping is not always available at this location, if the event information above does not mention it, please ask. If it is available: As you enter the Sailing Academy overnight camping is located in the large car park on your right. Conveniently kit can easily be carried to the rigging area and slipways just accross the access road. Trailers can be left in the trailer park before parking. There is a small charge made by the academy for overnight camping. Drinking water is avaiable nearby. Many pitches now have electric hook up. There must be one clear vehicle gap between each vehicle, in other words every other space must be left empty. Failure to comply will cause YOU much inconverience.
Accommodation
Turnstones B&B is walking distance away, other accommodation can be found at Visit Weymouth. Other options are Sky View apartments, Contemporary Cottages, Spinnaker House, Portland Roads, The Venue and Dream Cottages. Portlandholidaylet.co.uk has a listing of B&Bs and other accomodation.
Terms of attendance
The UKWA reserves the right to exclude or expel any member / non member / family / group or individual from its event site should it be considered that they may by their actions or the perception of such bring the UKWA, its hosts other parties or individuals into disrepute. The UKWA Committee, in part or in it's entirety, shall be the sole judge of such action, and their decision is deemed final.
Persons expelled shall leave the event site within 30 minutes of any verbal notice and shall not return. Exclusion may be deemed temporary (this event) or permanent (all events). Permanent expulsion shall be the decision of the elected committee and shall be confirmed in writing within 21 days of any temporary expulsion, however any excluded individual may not attend any UKWA events during this period of consideration.