Slalom 3 -
Aberdovey
Sat 2nd

-

Sun 3rd

July
About Slalom
UKWA Slalom represents windsurfing in its purest form. No matter what your ability, the kit you use or the discipline you specialise in, everyone can relate to the exhilaration of blasting back and forth, trying to squeeze that extra bit of juice out of your kit whilst racing your mates.
At an event you choose a fleet to join depending on your ability, and blast around a simple course, trying to get to the finish the quickest!
At the events, there are several fleets:
Master Blaster Fleet: Any kit, launch from the beach, get around one bouy any way you can, and get back! First back to the flag wins.
Amatuer Fleet: The stepping-stone to the Pros, you need to be able to gybe around a 5 bouy downwind course.
Pro Fleet: People who have plenty of competitive experience, and racing slalom within the International Rules.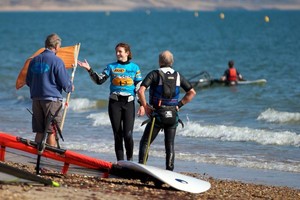 If you are not a member of the UKWA you can still enter in the Master Blaster fleet, although we do have to charge an extra £10 to cover event insurance.
For the Amateur or Pro fleet you need to be a UKWA member to enter an event, then online entry is easy (see membership for more).
BSA Round 3, Neil Pryde and JP Australia, in association with Boardwise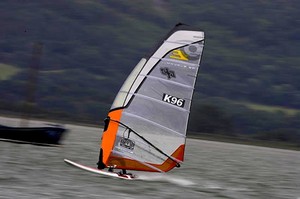 After an exciting and exhilarating second round of racing at Weymouth, the third round of The 2011 BSA National Tour heads to the principality of Wales and to the jewel of the Snowdonian National Park, Aberdovey. Girls and Ladies can enter for FREE, but please note that non-UKWA members will have to pay £10 for temporary membership to cover insurance. Free T-shirt for all competitors.
Aberdovey is fast establishing itself on the national windsurfing scene as a superb destination for windsurfers of all ability and disciplines, often described as the Welsh Gorge its local geography lends itself to some fantastic windsurfing conditions, where the mountains work to generate some exciting summer sea breezes. These, coupled with the Estuary's funnel effect ,often serves to concentrate the wind and give the avid windsurfer those extra couple of golden knots! The last 3 years have seen extreme opposites in the wind strength, but both have provided a fantastic event whether it was the 45 knot epic of 2008 or the sun drenched, chilled out scenic trip to the National Park's postcard resort in 2009, all followed by some more exciting sun drenched championship racing last year.
A family friendly location for all to enjoy - not just the windsurfer! Bring the family along and enjoy what the picturesque village has to offer, from donkey rides for the kids to high fashion for the ladies (and some men!) offered by an array of boutique shops. Parking is plentiful and nearby campsites will happily accommodate caravans or tents at very reasonable costs. The Welsh Tourist Board web site is but one resource that can point you in the right direction.
Parking is at the event site, and though officially not allowed, our hosts in town have worked to ensure that, as long as everybody obeys the rules and pay for all the bays and spaces they use, then they are happy with this. Please ensure you park together as a group as much as possible up at the far end of the car park (nearest the sand dunes and fire station), stay within the lines and pay for what you use.
Entertainment: there will be live music and entertainment on Saturday night, with a competitors' barbecue post racing also. One of the event's bigger draws over the recent years has been the Saturday night party, but for many competitors it still remains a mystery as to why this is....mainly due to some advanced memory loss! The Yacht Club will also host families and onlookers throughout the weekend with refreshments and relaxing shelter whilst providing awesome views over the bay/race area.
No wind then no worries! Aberdovey has as much to offer the traveller even when the wind does not turn up. But for the hardened windsurfing entrant there will be an alternative timetable published that will feature Clinics from the country's top Pros, such as Dave White, Ant Baker of the Baker Windsurf academy and numerous other Team Riders, on everything from speed and rigging through to gybes and back loops! along with a series of fun Relay Races on either windsurf kit or SUPs -plenty to keep you occupied and plenty of prizes to be won!
Demo starts 10am Saturday and will finish about 4pm Sunday (depending on wind) Starboard / Tushingham / RRD / Fanatic / North / JP / NP / Severne will all be there for people to try !
Slalom - Prize fund of £500 (the only UK Slalom event with a prize fund). Goodies provided for amateur fleets by JP/NP.
Entertainment - Friday night make your own ! Saturday - Band and Disco - The club will provide a chilli for Saturday night and the BBQ's will be switched on for anybody to cook there own meat !
Parking - As long as the correct fees are paid, camping in Vans overnight is allowed on Friday and Saturday nights .
Mainly though just come along and have a great time !!!
Ian Gregorelli - Boardwise
Venue
Aberdovey, which is a quaint little village on the Welsh coast: Multimap link.
Are the local facilities nearby...?
Despite being little and quaint, Aberdovey is a great place for all the family - windsurfer or not! It has a large car park which on one side which allows direct access on to the golden sandy beach and on the other a string of B & Bs, local shops, cafe's, restaurants and pubs.Please use the link below to view the local facilities: aberdyfi.com or aberdovey.com
Is there any accomodation there...?
As briefly mentioned above, there are plenty of places to stay over, please use the link below to find accommodation and aberdoveybreaks.
Directions
Aberdovey's remoteness is what makes it so special and unspoilt, and although at first glance it appears some distance its actually less than 2 hour's drive from Birmingham! It is also one of the more scenic and enjoyable journeys. as most people will be travelling from the south or east i would suggest getting to the M54 and then heading out towards welshpool on the A458 and staying with this road till you get to the A470 and A489 to Machynlleth finally finishing with the A493 to Aberdovey!
The event site's post Code is - LL35 OEA
Terms of attendance
The UKWA reserves the right to exclude or expel any member / non member / family / group or individual from its event site should it be considered that they may by their actions or the perception of such bring the UKWA, its hosts other parties or individuals into disrepute. The UKWA Committee, in part or in it's entirety, shall be the sole judge of such action, and their decision is deemed final.
Persons expelled shall leave the event site within 30 minutes of any verbal notice and shall not return. Exclusion may be deemed temporary (this event) or permanent (all events). Permanent expulsion shall be the decision of the elected committee and shall be confirmed in writing within 21 days of any temporary expulsion, however any excluded individual may not attend any UKWA events during this period of consideration.