Slalom 4 -
Aberdovey
Sat 23rd

-

Sun 24th

June
About Slalom
UKWA Slalom represents windsurfing in its purest form. No matter what your ability, the kit you use or the discipline you specialise in, everyone can relate to the exhilaration of blasting back and forth, trying to squeeze that extra bit of juice out of your kit whilst racing your mates.
At an event you choose a fleet to join depending on your ability, and blast around a simple course, trying to get to the finish the quickest!
At the events, there are several fleets:
Master Blaster Fleet: Any kit, launch from the beach, get around one bouy any way you can, and get back! First back to the flag wins.
Amatuer Fleet: The stepping-stone to the Pros, you need to be able to gybe around a 5 bouy downwind course.
Pro Fleet: People who have plenty of competitive experience, and racing slalom within the International Rules.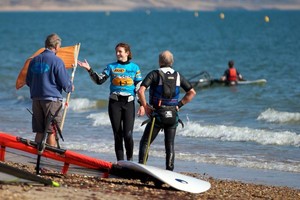 If you are not a member of the UKWA you can still enter in the Master Blaster fleet, although we do have to charge an extra £10 to cover event insurance.
For the Amateur or Pro fleet you need to be a UKWA member to enter an event, then online entry is easy (see membership for more).
Aberdovey Latest Update
Aberdovey BSA slalom IV - The long range forecast is looking good for Aberdovey, untouchably one of the best venues in the BSA series, on the 23rd/24th June . The Event has some great Support and sponsorship From Aberdovey Town , JP/ Neilpryde , Dovey Yacht Club and Boardwise and will run with 3 fleets PRO's - £500 in Cash from Aberdovey Town split between the first 3 places Armatures - Product prizes from Boardwise and JP/ Neilpryde for the winners . MasterBlasters - Everyone's a winner , getting a product prize from JP / Neilpryde for just entering and having ago . Plus everyone competing gets an event shirt to keep ! This year they are looking really great . Entry cost ? The Dovey Yacht Club who are hosting the event will as normal provide the Live entertainment for Legendary Saturday night party . The BBQ's will be switched on for anyone bringing there own food and hot food will be available at the club . Overnight parking for Campers Vans is free on the Town Car park ( Right next to the beach ) as long as the parking fee's are paid . For more info on Accommodation , Camping etc. look at www.aberdyfi.org . Don't forget that Boardwise also run a demo over the weekend with help from some on the UK Importers so you can try some of the latest kit from- Starboard, Tushingham, JP , Neilpryde , RRD , Ezzy , North , Fanatic . Simmer , Mistral, Severne . And if the forecast turns out to be not so great remember that Aberdovey is just a great place to be !
The Welsh Gorge!
Nestled at the foot of the Snowdonia National Park, Aberdovey is now well established as one of the UK's favourite windsurfing destinations. The combination of mountains, valleys and estuary tides not only provide one of the most breathtaking backdrops in which to sail, but also combine to give superb sailing conditions with a good chance of wind and racing no matter what the forecast!
The journey is scenic and the location with its superb Sailing Club, picturesque scenery and modern facilities provide a friendly atmosphere, making Aberdovey a superb choice for bringing the family for a great weekend's holiday away.
Venue
Aberdovey, which is a quaint little village on the Welsh coast: Multimap link.
Are the local facilities nearby...?
Despite being little and quaint, Aberdovey is a great place for all the family - windsurfer or not! It has a large car park which on one side which allows direct access on to the golden sandy beach and on the other a string of B & Bs, local shops, cafe's, restaurants and pubs.Please use the link below to view the local facilities: aberdyfi.com or aberdovey.com
Is there any accomodation there...?
As briefly mentioned above, there are plenty of places to stay over, please use the link below to find accommodation and aberdoveybreaks.
Directions
Aberdovey's remoteness is what makes it so special and unspoilt, and although at first glance it appears some distance its actually less than 2 hour's drive from Birmingham! It is also one of the more scenic and enjoyable journeys. as most people will be travelling from the south or east i would suggest getting to the M54 and then heading out towards welshpool on the A458 and staying with this road till you get to the A470 and A489 to Machynlleth finally finishing with the A493 to Aberdovey!
The event site's post Code is - LL35 OEA
Terms of attendance
The UKWA reserves the right to exclude or expel any member / non member / family / group or individual from its event site should it be considered that they may by their actions or the perception of such bring the UKWA, its hosts other parties or individuals into disrepute. The UKWA Committee, in part or in it's entirety, shall be the sole judge of such action, and their decision is deemed final.
Persons expelled shall leave the event site within 30 minutes of any verbal notice and shall not return. Exclusion may be deemed temporary (this event) or permanent (all events). Permanent expulsion shall be the decision of the elected committee and shall be confirmed in writing within 21 days of any temporary expulsion, however any excluded individual may not attend any UKWA events during this period of consideration.