Slalom 3 - Boardwise / Fanatic/North -
Aberdovey
Sat 31st

-

Sun 1st

June
About Slalom
UKWA Slalom represents windsurfing in its purest form. No matter what your ability, the kit you use or the discipline you specialise in, everyone can relate to the exhilaration of blasting back and forth, trying to squeeze that extra bit of juice out of your kit whilst racing your mates.
At an event you choose a fleet to join depending on your ability, and blast around a simple course, trying to get to the finish the quickest!
At the events, there are several fleets:
Master Blaster Fleet: Any kit, launch from the beach, get around one bouy any way you can, and get back! First back to the flag wins.
Amatuer Fleet: The stepping-stone to the Pros, you need to be able to gybe around a 5 bouy downwind course.
Pro Fleet: People who have plenty of competitive experience, and racing slalom within the International Rules.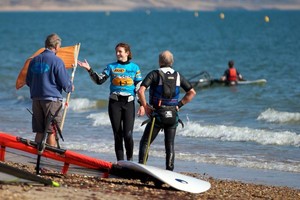 If you are not a member of the UKWA you can still enter in the Master Blaster fleet, although we do have to charge an extra £10 to cover event insurance.
For the Amateur or Pro fleet you need to be a UKWA member to enter an event, then online entry is easy (see membership for more).
If you are new to slalom, check out the getting started guide.
Boardwise are also running a windsurfing demo at 10am Saturday to about 4pm Sunday. All the suppliers will be there in force with the latest kit to try out plus they'll be taking their own demo vans full to the brim of the latest gear!
There's also:
Stand up paddle boarding
The local area has plenty to do: mountain biking, golf courses, climbing, walking, fishing etc. etc. So you won't be short of something to do if it doesn't blow!
On the Saturday night it's party time with live bands and usually far too much beer!
Venue
Aberdovey, which is a quaint little village on the Welsh coast: Multimap link.
Are the local facilities nearby...?
Despite being little and quaint, Aberdovey is a great place for all the family - windsurfer or not! It has a large car park which on one side which allows direct access on to the golden sandy beach and on the other a string of B & Bs, local shops, cafe's, restaurants and pubs.Please use the link below to view the local facilities: aberdyfi.com or aberdovey.com
Is there any accomodation there...?
As briefly mentioned above, there are plenty of places to stay over, please use the link below to find accommodation and aberdoveybreaks.
Directions
Aberdovey's remoteness is what makes it so special and unspoilt, and although at first glance it appears some distance its actually less than 2 hour's drive from Birmingham! It is also one of the more scenic and enjoyable journeys. as most people will be travelling from the south or east i would suggest getting to the M54 and then heading out towards welshpool on the A458 and staying with this road till you get to the A470 and A489 to Machynlleth finally finishing with the A493 to Aberdovey!
The event site's post Code is - LL35 OEA
Terms of attendance
The UKWA reserves the right to exclude or expel any member / non member / family / group or individual from its event site should it be considered that they may by their actions or the perception of such bring the UKWA, its hosts other parties or individuals into disrepute. The UKWA Committee, in part or in it's entirety, shall be the sole judge of such action, and their decision is deemed final.
Persons expelled shall leave the event site within 30 minutes of any verbal notice and shall not return. Exclusion may be deemed temporary (this event) or permanent (all events). Permanent expulsion shall be the decision of the elected committee and shall be confirmed in writing within 21 days of any temporary expulsion, however any excluded individual may not attend any UKWA events during this period of consideration.