Slalom 2 - Tushingham -
Hayling Island - Beach
Sat 25th

-

Sun 26th

April
About Slalom
UKWA Slalom represents windsurfing in its purest form. No matter what your ability, the kit you use or the discipline you specialise in, everyone can relate to the exhilaration of blasting back and forth, trying to squeeze that extra bit of juice out of your kit whilst racing your mates.
At an event you choose a fleet to join depending on your ability, and blast around a simple course, trying to get to the finish the quickest!
At the events, there are several fleets:
Master Blaster Fleet: Any kit, launch from the beach, get around one bouy any way you can, and get back! First back to the flag wins.
Amatuer Fleet: The stepping-stone to the Pros, you need to be able to gybe around a 5 bouy downwind course.
Pro Fleet: People who have plenty of competitive experience, and racing slalom within the International Rules.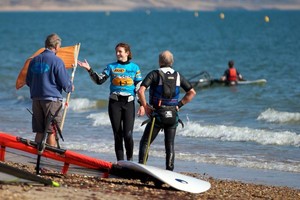 If you are not a member of the UKWA you can still enter in the Master Blaster fleet, although we do have to charge an extra £10 to cover event insurance.
For the Amateur or Pro fleet you need to be a UKWA member to enter an event, then online entry is easy (see membership for more).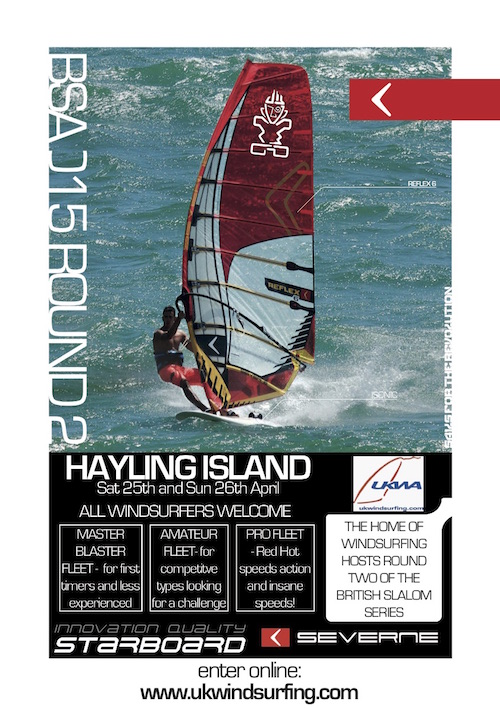 Venue
The Hayling Seafront is primarily a shingle beach above the high tide mark, with long stretches of sand below this line. About a third of the beach is protected by groynes. West Beach is Haylings most popular beach, and designated a windsurfing area. At high tide the waters can get deep quickly with the shelving of the beaches, at low tide the waters are usually shallow.
Directions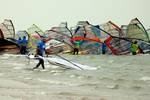 From the A27, take the Havant/Hayling exit.
Head south on the A3023 on to Hayling island.
At Mill Rythe roundabout (approx 2 miles from bridge ) take right exit.
At Beachlands roundabout (approx 1 mile) take right exit After approx 1/2 mile, left just west of the bottom of Staunton Avenue.
Parking / Camping
This is a Pay and Display parking area.
Please note:
"Overnight parking is not officially permitted by Havant Borough Council so our advice, as with the National Windsurfing Festival, is to use your own discretion and common sense. Considerate parking and behaviour hasn't attracted attention here before."
Hayling Island Tourism tel: 023 9246 7111; or go to havant.gov.uk For campers you can try 'The Oven', Manor Road tel 023 9246 4695. Another useful site is haylingisland.net.
Facilities
The action takes place from the 'INN on the BEACH' where the race office will be based. Many thanks to our hosts at the INN! This building is right on the waters edge with a large deck for spectators to watch the racing; also bars and conservatory upstairs, with fantastic views of the Solent.
Tourist Information / Accommodation
Hayling Island Tourism tel: 023 9246 7111 ; or go to havant.gov.uk For campers you can try 'The Oven' ,Manor Road tel 023 9246 4695. See also the resort guide, tourist information, and haylingisland.net
Terms of attendance
The UKWA reserves the right to exclude or expel any member / non member / family / group or individual from its event site should it be considered that they may by their actions or the perception of such bring the UKWA, its hosts other parties or individuals into disrepute. The UKWA Committee, in part or in it's entirety, shall be the sole judge of such action, and their decision is deemed final.
Persons expelled shall leave the event site within 30 minutes of any verbal notice and shall not return. Exclusion may be deemed temporary (this event) or permanent (all events). Permanent expulsion shall be the decision of the elected committee and shall be confirmed in writing within 21 days of any temporary expulsion, however any excluded individual may not attend any UKWA events during this period of consideration.