Champions Cup 2022 -
Rutland Sailing Club
Sat 17th

-

Thu 18th

August
PRE ENTRY IS NOW CLOSED. YOU MAY STILL ENTER ON THE DAY. REGISTRATION WILL BE OPEN FROM 8am to 9.30am SATURDAY MORNING.
If you are competing in the Champions Cup for your club team, then please read on. When you enter the Champions Cup you are also automatically entered into The National Windsurfing Championships.
If you are looking to enter just the National Windsurfing Championships then click here
Can I check my entry ?
Yes you can see everyone entered in the Champions Cup here
All results also count towards The UKWA Inland Series 2022
The UKWA thanks it's sponsors






Champions Cup 2022 Rutland Water Sailing Club
Pre Entry NOW OPEN CLICK HERE you will be sent to sailracer where you enter your details and pay the entry fee.
Once entered you will receive a confirmation PDF from Sailracer. You must print this out, sign the document and bring it to the event registration desk on Saturday morning between 8am and 9.30. If you do not see the email, please check your spam folder.
Notice of Race (Go to official notice board)
Champions Cup Competition Rules Appendix A & B
(Go to official notice board)
Sailing Instructions (Go to official notice board)
Other event documents and policy documents including Covid policies and procedures
Flags (Go to official notice board)
What is The Champions Cup
The Champions Cup is the culmination of The Regional Windsurfing League Program. Teams compete over two days to be crowned Champion Club for 2022
Champions Cup Rules for 2022
For The 2022 Champions Cup, entry will be open to all Clubs.
In previous years only the top two teams from the Team 15 Inter Club Series have been eligible to compete at The Champions Cup. This year we want to be more inclusive and all clubs will be invited to attend. Your attention is drawn to Competition Rules – Entry, Equipment and Eligibility
A teams top six results across any number of fleets will make up the overall team score.
Teams can be made up of 2 to 15 sailors.
Teams of less than 6 sailors will have points added to make their team results up to 6 members.
Individual entries will also be accepted for anyone not part of a team.
Further information can be found in the Champions Cup sailing instructions.
How do I enter & how much will it cost?
The Champions Cup is the culmination of all the Regional Windsurfing League interclub events where teams from each region compete to be crowned Champion!
Individuals from any club are also welcome to compete for individual prizes.
Who can compete?
Racing will take place in the following fleets: 3.5m, 4.5m, 5.8m, Techno 6.8m, Techno 7.8m as detailed in the Champions Cup Competition Rules. For the purpose of the Champions Cup only 5.0m entries will be scored as 5.8m sailors.
How much will it cost?
Entry for two days is £65
How to enter
To enter click the link below
Champions Cup Competitors Enter HERE
Late Entry
Entry will close at Midnight on Monday 12th September. Late entry will be available on the day however there will be an additional late entry fee of £10
Help
Are you confused? Have any Questions? Need Assistance email racing@ukwindsurfing.com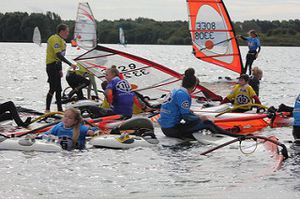 General Information:
Is there anything else I should do ?
You should read the Notice of Race
You should read the Sailing Instructions
These two documents should tell you everything you need to know about racing at the event. Of course if its your first time or you have not attended for a while then you may have a question or two. See contact below.
Contact
For any help/ further information you require please contact Bob Ingram racing@ukwindsurfing.com
Facebook
See the event on Facebook
Competitor & Volunteer Event Schedule, Site Map, Food & Drinks
Competitor Event Schedule
Volunteer Event Schedule
Site Map
Food and Drink Information
Food
The galley will be open all weekend serving Breakfast, Lunch, Dinner & snacks
Entertainment
In the Clubhouse the bar will be open all evening.
Camping
Book directly with Rutland Water Campsite Here
In addition all vans, tents and motorhomes parked on site are required as per terms of entry to carry an appropriate fire extinguisher.
Communication

The UKWA will be using its Public Address System to make announcements this weekend
However in addition we will be using a smartphone App. Whilst the PA system works well if you are in proximity, we can now talk to you directly via your smartphone throughout the event.
Not only can we talk to you, if you miss the transmission you can play it back so you never miss a thing.
If you want to be part of this then please search for and download the App called Zello Once you are signed up you go to Channels and search for UKWA including the UKWA logo.
So long as you have the App open at the event you will receive our transmissions
Further details at the events, just ask a member of the race crew.
Please note: Neither of the above replaces an individuals responsibility to The NoR, The SI's, Flags and The official Notice board
Feedback
The UKWA welcomes your honest feedback on its events. Your feedback at the event or completed within 4 days on line will be collated and published on line with a selection of comments. You may add your name or remain anonymous.
Please download a form here Feedback Form and e-mail to The Feedback Administrator
Feedback Results
Results of the event feedback and a selection of comments will be posted here
Venue
Rutland Sailing Club, Gibbet Lane, Edith Weston, Oakham, Rutland, LE15 8HJ
01780-720292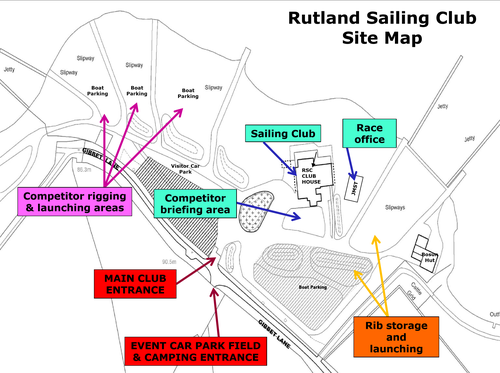 https://www.rutlandsailingclub.co.uk/
Camping
Book directly with Rutland Water Campsite Here
Accommodation
Accommodation is available at the sailing club, plus there is plenty of local accommodation examples of which can be seen HERE
Terms of attendance
The UKWA reserves the right to exclude or expel any member / non member / family / group or individual from its event site should it be considered that they may by their actions or the perception of such bring the UKWA, its hosts other parties or individuals into disrepute. The UKWA Committee, in part or in it's entirety, shall be the sole judge of such action, and their decision is deemed final.
Persons expelled shall leave the event site within 30 minutes of any verbal notice and shall not return. Exclusion may be deemed temporary (this event) or permanent (all events). Permanent expulsion shall be the decision of the elected committee and shall be confirmed in writing within 21 days of any temporary expulsion, however any excluded individual may not attend any UKWA events during this period of consideration.