UKWA AGM -
Stokes Bay
Sat 15th

-

Thu 15th

September
Notice of UKWA AGM
Location
Stokes Bay Sailing Club @ 7.30pm Saturday May 15th 2022
Agenda
1. Approval of the Minutes of the previous AGM 2019, due to covid there was no AGM in 2020 or 2021 although the committee met on line throughout Attached
2. Matters arising from the Previous Minutes (not covered in the Agenda Items)
3. Chairman's Report (Bob Ingram) Attached
4. Finance Report Attached and to receive the Financial Statements and Accounts for the year to
31st December 2019 Attached
31st December 2020 Attached
31st December 2021 Attached
5. Resources Report – by James Palin, Director of Resources Attached
6. Admin Report - Brian Tilbury Attached
7. Marketing Report - Rod Davies Attached
8. Speed Report - Pete Davies Attached
9. Wave Report Attached
10. Election of Directors
The existing board puts itself forward for re-election consisting of
Elected executive directors
Mr Alastair Campbell Director of communications
Mr Rod Davis Director of marketing & publicity
Mr Bob Ingram Chairman
Mr James Palin Director of resources
Mr Andy Watkinson Director of finances
Mr Brian Tilbury Director of administration
Nominated directors
Mr Pete Davis Head of Speed
Mr Nigel Treacy Head of Wave
Alternative candidates shall be proposed and seconded and the proposals be received in the UKWA office at least 7 days before the meeting to allow the proposal and agenda be published. admin@ukwindsurfing.com
The agenda may be revised should candidates be proposed as above.
11. AOB of the Association
Please print your own copies of any documents you may wish to refer to during the meeting. The UKWA will not be providing printed copies in view of its support for the environment. Links can be found above.
Members may wish to refer to The UK Windsurfing Association Memorandum and Articles Of Association As amended by resolutions passed on 24 September 1982, 7 May 1983, 9 April1999, 22 October 1999 and 12 May 2001, Revised 2014. Attached
Submit a question via email.
To the AGM (business of the assosiation) HERE
To the sailors meeting (any subject you like) HERE
Answers will be found in the minuites when published.
Sailors Meeting
The AGM will be followed by a one hour sailors meeting, there will be no agenda and the meeting will be open to the floor.
Venue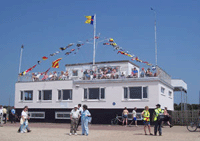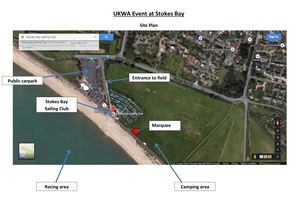 Address
Stokes Bay Sailing Club, The Promenade, Stokes Bay Road, Gosport, Hants. PO12 2BL.
Tel:023 9258 1513
Email administrator@stokesbay-sc.co.uk
Terms of attendance
The UKWA reserves the right to exclude or expel any member / non member / family / group or individual from its event site should it be considered that they may by their actions or the perception of such bring the UKWA, its hosts other parties or individuals into disrepute. The UKWA Committee, in part or in it's entirety, shall be the sole judge of such action, and their decision is deemed final.
Persons expelled shall leave the event site within 30 minutes of any verbal notice and shall not return. Exclusion may be deemed temporary (this event) or permanent (all events). Permanent expulsion shall be the decision of the elected committee and shall be confirmed in writing within 21 days of any temporary expulsion, however any excluded individual may not attend any UKWA events during this period of consideration.