Youth Freestyle Camp in Egypt
22 January 2005
Calling - all young improvers, movers and shakers!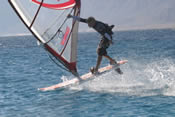 The first ever specifically dedicated youth freestyle camp will take place July 3rd-10th at the fabulous Club Dahab centre in Egypt. The aim is to get the UK's young talent on the water and to raise their windsurfing level to new heights. Expect it to be hot, with clear blue, super flat water and LOTS of wind! It's also a great opportunity for parents to get more involved.
Coaching will be provided by UKWA/T15 star Mark 'Sparky' Hosegood and Club Dahab instructor, Simon Hurrey. Not forgetting mum & dad and the rest of the family, they can slot in to the excellent Club Dahab instruction scheme for one of the best windsurfing holidays around!
Mark Hosegood

This first camp (July 3rd-10th) is aimed at the guys and girls who are taking their GCSE or AS exams this summer. The minimum standard needed is harness and footstraps, comfortably sailing in force 5/6 winds on a short board, staying up wind! There are approximately 12 places available that will be subsidised by Club Dahab down to £450 (From £569). With more spaces available for parents and other family members (normal Club Dahab prices apply).
Club Dahab will be providing kit to those who want it. There is space to store personal kit by arrangement.
For any who can't make this one, another event is being planned for February half term 2006, which will be open to all youngsters.
This Event has the full support of the UKWA, RYA and the Andy Funnell Foundation and is linked to their Training Camp at Christchurch over the August Bank Holiday weekend.
For more information and booking call Club Vass on 01920 484121 or clubvass.com or for information Mark Hosegood on sparkytoptips@hotmail.com.
Mark Hosegood
'Sparky' K78
Sponsored by:
O'Neill, O'Shea, White Water Fins, Reef, Walnut Grove Clinic.