Christchurch Super X Report
2 August 2005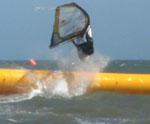 I turned up for the event in the early morning and had a chat with Matt Wemms (of 604 Distribution) about the sausages - floating inflatable tubes that competitors jump over - and tips to get over them. It seemed that you have to jump onto them and then slide over them rather than try to clear them. Then I heard that the PWA had owned these sausages but sold them because they were too big. That wasn't what I wanted to hear: if they were too big for the PWA how was I going to get over them?
I went to Spot-On-Water and registered. Basically, wind was forecast for the next day but it wasn't going to happen that day unless the sun came out. Later, Sam Neil and I were then walking back from the campsite to check what was happening when we saw that Richard Potter was out there and planing, so obviously we rushed along the beach to rig up. Then we watched as he tried to get over the sausages and failed miserably: I think he forgot to jump. Well we were laughing but realised we would probably do the same.
I went out on a 5.3 and my Flying Pig but was very under-powered: I could just about pump onto the plane in the gusts, enough to pull off a few vulcans and lots of attempts. Then finally I plucked up the courage to go for the jump. I came in, pumping like a lunatic to get as much speed as I could, remembering Matt's comments about the need to get the board's nose up. So I got about a metre away, slammed the tail in as hard as I could and pulled the nose up. I had hit the sausage and I was over. I had done it on my first attempt and I was also the first one to do it that day. With lots of cheers from the beach, I was pleased beyond belief.
Although the wind was too light for any competition, I stayed out on the water until 5pm so I was really tired. We went to the party that night which was really good and I went to bed to get some well earned rest. I was woken up early by a puddle of water in my tent because it was raining so hard and then I realised my tent was hovering and flapping like a lunatic, so I went outside. I have never seen such a good sight: white caps everywhere dead onshore 4.7 weather. Who cares if it was raining?
I got down to the beach to find that other people were already out so I rigged quickly and had lots of fun before the wind dropped and switched cross shore. It was the dreaded curse for competitions setting in again. Luckily though, the wind picked up enough for me to be fully planning on my 5.3. We set up for the first heat, which involved three gybes and two sausage-jumps. I managed to scrape 4th in that heat, which was pretty good and I was through to the losers' final. All was going well until I fell in on the last sausage and came in behind fellow junior Sam Neil, so he was beating me at that stage.
In the next round the orgainsers added a foward loop and a duck-gybe to the course. I was a bit scared but I braved it and I was second at one point in front of Matt Wemms when he crashed his forward loop and I made mine. I was coming in to the second sausage, thinking that if I could just make it over I could get second. Then that thought went out of the window when Matt came planning past me on his 7.9. I made it over the jump and came 3rd, so through to the losers' final again.
I was going well in second place and I made it all the way round and across the finish line ahead of Sam, making me overall better placed than him. Then in the next round it all went to pot. The wind had picked up and I can't duck gybe when overpowered so I crashed on every gybe, meaning I came second to last and didn't get through to the losers' final. Then I found out Sam had had a similar problem in his heat so overall I was still beating him.
Then competition was called off and I went out for a free sail and experienced one of my happiest moments. I over-rotated a forward loop off chop which means I have got all the rotation right and should be able to land them planing after some more practice. Then we went to the prize giving and I got 1st junior, which I was stoked about, but even more pleased to find I had come 13th overall. I would like to thank Trevor, Mark and Spot-On-Water for organising the event. I really enjoyed it and it was probably one of the best events I have been to. I would also like to thank my sponsors Windsurfers World, O'Shea and 604.
- Graham Woods of Team Airborn.