Dan Simpson - Vice World Champion.
9 August 2005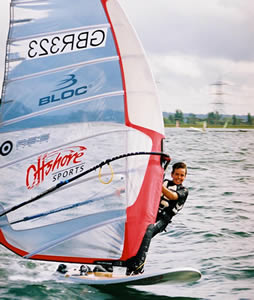 15-year-old Ultra Sport, Offshore Sports and Surfkraft team rider Dan Simpson recently took part in the Formula Junior, Youth and Masters World Championships at Christchurch, Dorset.
Dan was 2nd U15 Formula racer in the junior fleet last year in Dranske, Germany and has been training hard since then. The winter training was run by Mark Kay at Rutland Water and West Pennine Reservoir. As an up and coming formula sailor Dan was also invited to train as a guest with the RYA Great Britain Formula Youth Squad at Hayling Island and Weymouth.
Good results in the UKWA Cup Events at Marazion, Pwllheli and Hove ensured that Dan was selected for the Great British Team to take on the rest of the world in 2005. Following this selection Dan has benefited greatly from high quality individual coaching from International racers Keith Atkinson and Xavier Ferlet and GBR team training with Dom Tidey at the World Championship venue.

The junior fleet consisted of twenty-five racers from eight different countries and they enjoyed eleven good races spread across the five days. Although Dan won two of those races he could not quite overcome 16-year-old Frenchman Pierre Mortefon who deservedly became World Champion this year.
So Dan Simpson is Formula Junior Vice World Champion this year and with Pierre too old next year who knows? Four out of the top ten juniors (results) are British so with a lot more hard work perhaps we can really show them next year!