Felixstowe Report
25 June 2005
"Felixstowe, Felixstowe, a long way to go, without any blow!"

The 18th and 19th of June were the dates posted for the eastern cup at Felixstowe and it was with great expectation that the UKWA road show picked up the road maps and planned the tortuous route down to the east coast and the quaint seaside town (for those with sat nav it is noted that your route planning may of been a little less tortuous, and I'm sure you'd of known-unlike my co driver-that Felixstowe is not next to, near or in any way connected to Felix's foot). With this years event counting as one of the cup events plenty of points were up for grabs and anyone looking to take control of their respective fleets at this mid season time would have to be on top form and ready to seize the moment.
Eventually arriving at our destination and passing the enormous container port the UKWA nomads (no-mads, not no-mates, kieth) were to be placed out of harms way and on the beach front in an ideal spot for rigging, camping, sand castles and getting stuck. The only thing missing as I drove through the streets of Felixstowe was bad boy alloy wheels, gangster rap music blasting out me stereo, furry dice and a broken driver's window that never seemed to be up. However not all of us may of experienced feeling such inadequacies as bad boys Bob "hip hop" Ingram and Greg "gonna pop a cap in yer ass" King could testify.
The forecast was not the best…...for windsurfing, but it certainly bode well for those looking to kick back and have a fun weekend at the beach in glorious weather. And indeed the forecast for once managed to pretty much spot with only a little less wind arriving than actually forecasted. Saturday morning dawned on an arena of champions straining at the leash ready for a days fierce on the water competition, but it was disappointment all round with the hoisting of the postponement pennant and the dulcet tones of MC Dempsey promising the chance of a lie in as the orange flag was on strike till at least 11 o'clock, this announcement alone from the Scottish tormentor was enough to awake me from a deep slumber and plunge me into a serious state of shock -I mean you just don't expect to hear such things from the master of all ceremonies- my lie in was doomed thanks to the cold sweat I now found myself in. by the way Nick "super keen" Deverall had already rigged up by now.
As the day progressed a slight wind was beginning to build ever so gently from the north east adding weight to the claim of our generous host and ever so optimistic Andy Mexhome who claimed we'd be on nine metres by 3 o'clock, this wind coupled with the media pressure of finely tuned broadcasters Vibe FM lead to a decision that'll be debated in the race board halls for years to come-That's orange for all race board fleets, orange for all race board fleets- oh for the love of formula!

The race board fleets had two guest appearances this weekend which marked a milestone in global and British competitive windsurfing, for the first time at a UKWA event Bryony Shaw and Leo Mcallum took to the water to do battle on the brand new Olympic board the Neil Pryde RSX. And so it was with much interest that race board fleets completed 3 very difficult races in light winds and scorching heat. With spectators and media pressure in mind the start was held just off the beach giving an impressive spectacle for all on lookers and a definite sense of pride in what we all have here at the UKWA-it was great to watch. (Emphasise-great to "watch!") The results can be found elsewhere on the UKWA website, but let it be said that no matter what positions all competitors sailed well and with great determination in very difficult and demanding conditions. The RSX? Well the two sailors battled it out in a mammoth pumping battle but the spectator aspect of the RSX was watching the two sailors nurturing the beloved and price less boards off the water, under the pain of certain death bryony and Leo were in no circumstances to get the boards or sails dirty, damaged or misplaced. And even late into Saturday night Leo could still be observed putting the RSX to bed and whispering gentle sweet lullabies into the board bag as he lovingly closed the zip, a truly maternal image that touched us all.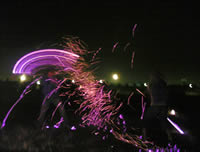 Saturday night in Felixstowe you'd of thought was a chav's dream, but the youth formula sailors were not be tempted by the lure of bright lights, arcades, bingo and pink booby tubes and chose to spend the evening , to their credit, training out on the water where the wind had eventually decided to turn up with a degree of force! Others chose to eat out in the evening sun, and myself and anyone else who chose to join also enjoyed a barbeque banquet under the Sola tent with gourmet chef Dan Ellis a walking testament to barbequed roasted vegetables. The evening progressed with the arrival of the twisted firestarter and pyromaniac Alan Jackson who brought years of council training to the fore by retrieving a broken fence and proceeding to build a bonfire fit enough to signal the French armada's arrival (as it was it was just "count Arnon" from Israel, sooty, sweep and computer Al that tuned up in the end) the fire blazed away all night under the watchful and intensity filled eye of Jackson jnr - the sooner they get central heating in Scotland to heat the caves the better and safer for us all!
Sunday, once again the sea was a mirror with not a ripple to be seen, and once again MC Dempsey was up and about strutting the promenade as UKWA official cockerel and promising the chance of yet another lie in, and as with the day before the shock of hearing this announcement soon put an end to any hope of extra slumber. And so we were to wait for the wind again, but today would be no dead loss as it was market day! Finally Keith could actually have an official market pitch at a UKWA event, a dream come true? All he needed now was an oversized bum bag to keep his takings. It was decided that in a moment of generosity myself, Alisha, Dan Ellis, Lucy Horwood, Tushingham Paul, Alan "firestarter" Jackson and big Kev would have a go at raising some much needed cash for the UKWA engine appeal- and the chariot for this great idea was a "bargain Hunt" style auction at the end of the day, where we would auction of f goods bought at the market. And so with only £5 each to spend we set off into the market on our quest for bargain fame, though competition was dead on the water believe you me there was plenty of aggression being shown in the cut throat aisles of Felixstowe's weekly bazaar of quality tat.

The wind never did show up on Sunday, we waited, we wake boarded (thanks to stretch and his stretch mobile) we waited more, but nothing and so in a flurry of activity prize giving was arranged and homeward bound we would soon be. Following prize giving the "bargain Hunt" auction went ahead with myself on lead vocals and gourmet chef Dan Ellis on modelling duty, we got rid of all the lots with three of them actually being bought by members of the general public who whilst walking past got caught up in the bidding frenzy and couldn't resist the quality merchandise that was on show. Big thanks to "bob the builder" from Felixstowe who actually donated £20 to the UKWA for a folding chair-thank you, and thanks to everyone who took part and bid for some pretty shady stuff, plus the guys who put the money in to start with along with myself, Paul, Kev, Dan/Lucy and Alan (who now owns a quality 24 piece plastic picnic set courtesy of the "bronzed Adonis" which is Mr Jackson senior) a total of just over £35 was eventually raised - enough for yet another anchor sooty?

And so it was over and away we went, leaving behind countless local boy racers who managed to get their beloved Saxo's and nova's stuck axel deep in dry uneven sand due to the conspicuous absence of the warning sign that had burnt down in a freak accident the night before. Though not everyone managed to race I think a great weekend was had by all, thanks to the race crew, Adam, Andy, the sponsors who are listed below and everyone else who helped with the event. Onto the next one…………
By Chris Lewis.
Solar wetsuits, Amex masts and booms, Severne sails, Merrel shoes, board wise, a commercial pimp daddy but does anyone know of any quality shampoo sponsors?