Hove Freewave
1 June 2005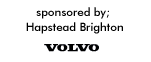 Well an event and lots of wind - maybe I am a windjinx after all as i didn't make it to the event due to prior committments in West Wales (sun, waves, solid 4.7m weather all day and no prospect of losing a heat or kit in the shorebreak!). I was in full contact with Lucy throughout the event to hear what I had been missing out on and have managed to pull together a virtual report!

The conditions weren't easy - gusty and onshore with mammoth shorebreak to deal with before even starting on the sailing - although there were a few waves which was a surprise to the locals given the onshore-ness of the wind.

Andy Chambers (AKA 'Bubble') outshone the competition with fluid and consistent moves despite the challenging conditions, most notably some slick Flakas. Terry Luxton and Simon Hurrey were second equal both showing an impressive array of moves. Terry is not that experienced in shorebreak (and, lets face it, does anyone really want to be if they don't have to?!) and took the opposite approach to most - launching without waiting, throwing his board at whatever was coming at him! I suppose the more you wait, the more fear you build up, and as shorebreak can sense fear (certainly seems to when I am around anyway) the tactic paid off - he received a rinsing or two but amazingly his kit remained intact! Simon Hurrey had a more conventional approach to launching in the gnarly jaws of Hove seafront but could have done better in his heats had he had a board that wasn't on the verge of snapping in half! Perhaps he was hoping some board sponsors would see his plight and offer him a new free board - any offers?!

Lucy Robson was the only girl in the comp, which is a shame as she is quickly becoming a force to be reckoned with and needs the opportunity to prove it! A hollow victory, perhaps, but she launched in headhigh shorebreak and fought a mean battle in the youth fleet so deserves the Neil Pryde bum bag (?!) and the prize money for sure! Richard Potter won the youths, freshly equipped with his newly sponsired JP/Pryde kit, and is definitely one to watch - better be looking over your shoulder if you are a Pro as he is catching up fast!
There were 4 full rounds which is virtually unheard of in a whole event (in my experience anyway...), let alone one day, so a result in more ways than one. The afternoon wind was a bit up and down but the skies cleared by late afternoon, resulting in solid 5m weather. Doubled up with a receding shore break on the falling tide there was a long evening of sailing for those who weren't off to the pub after a hectic day's battle with the elements and each other...

Sunday was a quieter day on all fronts - a lack of combined with and over indulgence of the delights of Brighton on a Saturday night combined and even the kiters didn't go out! Monday had a little more wind but nothing quite up to Freewave standards, especially after 4 complete rounds when you can afford to be a bit more choosy! The decision was made to call the result from Saturday's action, which was lucky for Andy as he was already back in Vass perfecting those manoeuvres for the next time - be afraid, guys, be very afraid!!
- Caroline
Results
Men
1 Andy Chambers
2= Terry Luxton
2= Simon Hurrey
4 Adam Cropper
Youths
1 Richard Potter
2 Adam Lewis
Juniors
1 Richard Jones
2 Graham Woods
3 Sam Neal
Ladies
1 Lucy Robson