Keith Atkinson is British Formula Champion
13 September 2005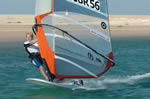 Starboard/Neilpryde rider Keith Atkinson has won the British Formula series, and has become the British Formula Windsurfing Champion. He was leading the British ranking leading up to the event, and needed a good result in the last round of the National championships at Bridlington, North-East Yorkshire, to secure the British title. With a string of top results nationally and internationally, winning 4 of the last 5 events he had entered, the odds were on Keith to pull out a top performance here too. However it wasn't going to be a walk in the park, the best racers in the UK were also there competing for a number one position.
Keith has improved a significant amount throughout his career in formula, he raced in some big international competitions, gaining invaluable experience and proceeded to climb up the UK and international rankings from year to year. This year Keith has been phenomenally consistent in the UK, not sinking beneath a podium position in any of the national events he has entered. He has a string of notable international performances too, including a 4th at the Calema Midwinters, 2nd at the French nationals and winning the Euro Cup in Silvaplana, to mention only a few.
Keith said:
"It's been my goal since I began windsurfing to be number one in the UK and I was getting closer and closer every year. Over the winter I trained religiously in the gym leading up to Christmas, improving my strength and fitness levels, and that had a big impact in my speed and general performance on the water. This year i knew it could be my year to win the title".
His next events are the PWA in Almannarre, and the world championships in Melbourne Australia.
Keith is sponsored by: Bilbo's Design Motorhomes, Starboard, Neilpryde, Physioactive, and supported by: Surfkraft.com.