Keith Atkinson reports from Calema midwinters
11 March 2005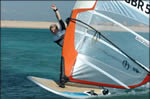 I flew into Orlando Florida with Wojtek Brzozowski after a long and quite tiring flight from snowy Poland. We were quite relieved to finally stretch our legs after being jammed into one position for 11 hours. I was lucky enough to have a kid sitting next to me who thought it was very amusing to ram his toy car into my ear every time I fell asleep.
It was the first big race of year for me, and for most of the other sailors too, so as usual there were a few top pro's showing up to tune their kit for the up and coming racing season. Wojtek Brzozowski, Arnon Dagan, Devon Boulon, Ross Williams, Gonzalo Costa Hoevel, Antoine Albeau are just a few of them who attended the event, including many amateurs from the US, Canada and many other nations.
3rd March - The day before racing.
We woke up to light drizzle and overcast skies, we had organised a test flight in a small plane in Orlando, so it wasn't the best weather but it could have been a lot worse. After a few loops and barrel rolls, we came off the plane feeling positively sick, but what an adrenaline rush! The wind was starting to blow so we headed for the beach. Some rain clouds settled overhead and the weather was deteriorating, I ventured out in my warmest wetsuit, my NPX shorty! IT WAS FREEZING!! It wasn't supposed to be like this in Florida I thought. And as sods law would have it, as soon as we got out there the wind died. So no tuning for me then.
4th March - 1st day of racing:
It was a beautiful day, glorious sunshine and a steady warm wind from the east. The adrenaline in me was really pumping, I was itching to get out there to race.
Race 1:
The first start was a general recall, and so the race crew raised the Black Flag for the rest of the day.
The wind was filling in nicely and we had a constant 14 knots on the course. I made the first mark in 3rd just behind Antoine and Gonzalo with Wojtek and Ross following. My 10.7 RS5 was working really well for me, I was very happy with my pointing angle, and my speed on all points of sailing. The racing was quite tactical so many places were being lost and gained which made it very exciting. I lost two places on the last downwind to Gonzalo and Arnon, then took the places back from them on the last beat and finished in 3rd behind Antoine and Seth Besse.

I was feeling very confident and comfortable heading out for the start of the 2nd race following a bit of tuning on the beach. The wind was getting stronger, touching 16 knots in the gusts. I had a good start and rounded in 4th place with Ross and Devon on my tail. Wojtek was on fire on his RS4 9.8 and sailed the whole race in 1st to take the bullet with Antoine in 2nd chasing with the 12.5 RS5. Nick Dempsey was going well also and was fighting it out with the top guys. The wind got stronger and I felt my pace was improving all the time.
It was time for the 3rd and final race of the day. I took my 9.8 and It felt really fast. After a very bad start I had to tack off for some clean air, which lost me loads of ground. The wind was dropping down to 10 knots and shifting around, so I was beginning to regret not having the power of my 10.7, especially on the downwind. The Starboard is faster this year. The upwind performance of the 159 is much the same, excellent, however it's the downwind performance is what starboard have really improved on. The board sits higher in the water and glides better over the chop, it feels more alive and doesn't dig in and want to throw you over the front. I felt like I could really control my equipment, everything felt efficient and it worked well for me. Antoine and Wojtek were over early, so Devon finished in 1st, in 2nd was Arnon, Gonzalo 3rd, Ross 4th with me close in 5th, Pieter Biejl in 6th being chased all the way by Nick Dempsey in 7th. Racing was finished for the day, which was a shame as we could have crammed one or two more in, but it was a great day nonetheless.
5th March - Day 2

Very warm and very sunny. The weather forecast was right for the second day in a row. Amazing! It was a very gusty 3-6 knots offshore wind, and with a bad forecast we could only hope for a sea breeze, but nothing happened. I spent the whole day reading, which was about as interesting as it got. Racing was cancelled for the day at 3pm and the results from day 1 stood.
6th March - Day 3
Another very warm and sunny day, forecast wasn't great and guess what, they were right again! The race officer teased us that there was 10 knots on the racecourse and told all sailors to go afloat, no one was even close to planning, so I stayed on the beach and watched all the lemmings trundle off to the start for half an hour, and then trundle all the way back in again. The wind never kicked in enough for another race.
The 2005 Calema Midwinters final Overall results:
Gonzalo Costa Hoevel
Devon Boulon
Seth Besse
Nick Dempsey
Wilhelm Shurman
Shame we were unlucky with the wind. In previous years we have had a lot of racing there, but it was a lot of fun anyway and I hope there'll be more Brits going over for the event next year!
See you on the water at the UKWA in Marazion!!
Keith Atkinson
GBR 56
Sponsored by Neilpryde, UltraSport, Electric, Starboard, Bilbo's Motorhomes, PhysioActive.