Keith Atkinson wins Euro-Cup event
18 August 2005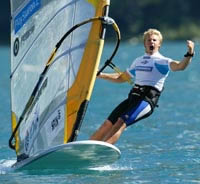 On the final day of the Windsurfing Euro-Cup Silvaplana the Maloja wind finally blew in its famous way. Two more races were run in front of the eyes of the numerous spectators. Andrea Cucchi scored another bullet after his marathon victory but stumbled in the final race. Steve Allen returned to his old strength and won the final race. But Keith Atkinson from Great Britain was the men of the day and snapped away the victory in the fourth tour stop of the Windsurfing Euro-Cup as most important Racing and Slalom series of the World.
Andrea Cucchi, place 2 at the EC Silvaplana and winner of the marathon race. After two days of waiting the best racers of the World finally got the chance to present their skills. In the first race of the day the Australian Steve Allen was the first racer to cross the finish line but unfortunately he was disqualified. This opened the door for the "Italian Stallion" Andrea Cucchi to score the second victory. The British hotshot Keith Atkinson showed a tremendous performance with position two. The Formula Windsurfing World Champion of 2000, Wojtek Brzozowski kept the pressure with a third place in front of the Italian youngster Alberto Menegatti and F2 shaper Patrick Diethelm.
Full story on the Euro-Cup site, final results on Formula Windsurfing.org (spreadsheet).